Join Dr. Liz for a fascinating conversation about hypnosis for fertility with Lynsi Eastburn
We talk about:
·       Archetypes in our culture
·       The Shadow Mother / Narcissistic Mothers
·       Conceiving on your own timeline
·       The initiation that women go through to have a baby
·       The illusion of control
·       Creating balanced mothering
About Lynsi Eastburn
Lynsi Eastburn is co-owner and instructor of the Eastburn Institute of Hypnosis and Eastburn Hypnotherapy Clinic in Denver, Colorado, founder of the HypnoFertility Foundation, and is a faculty member of several hypnosis organizations. See more about Lynsi Eastburn, Hypnofertility, and the Pink Starlight Babies at http://www.hypnofertility.com or http://www.hypnodenver.com.
Lynsi's previous interview:  HM29 The Missing Link – Infertility to Fertility
About Dr. Liz
Winner of numerous awards including Top 100 Moms in Business, Dr. Liz provides psychotherapy, hypnotherapy, and hypnosis to people wanting a fast, easy way to transform all around the world. She has a PhD in Clinical Psychology, is a Licensed Mental Health Counselor (LMHC) and has special certification in Hypnosis and Hypnotherapy. Specialty areas include Anxiety, Insomnia, and Deeper Emotional Healing.
————–
Free hypnosis files at http://bit.ly/drlizhypnosis
Do you have Chronic Insomnia? Find out more about Dr. Liz's Better Sleep Program at https://bit.ly/sleepbetterfeelbetter
Search episodes at the Podcast Page http://bit.ly/HM-podcast
Help yourself with Hypnosis Downloads by Dr. Liz! http://bit.ly/HypnosisMP3Downloads
---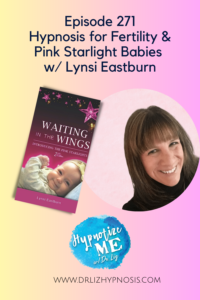 A problem shared is a problem halved. In person and Online hypnosis and CBT for healing and transformation. Schedule your free consultation at https://www.drlizhypnosis.com.
Listened to in over 140 countries, Hypnotize Me is the podcast about hypnosis, transformation, and healing. Certified hypnotherapist and Licensed Mental Health Counselor, Dr. Liz Bonet, discusses hypnosis and interviews professionals doing transformational work
Thank you for tuning in! Please subscribe to auto-download new episodes to your listening device.