3 Biggest Mistakes People make with their Sleep – Part 3
I'm doing a 3 day series on the 3 Biggest Mistakes people make with their sleep! Read Part 1 and Part 2.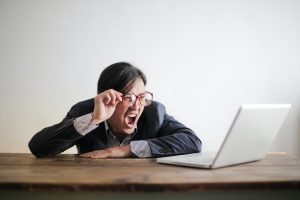 I hope you found the #1 and #2 Biggest Mistakes that people make with their sleep helpful! Drum roll for #3 . . . 
Mistake #3 – Staying in Bed when you can't sleep
Most of us have been there. Staring up at the ceiling wondering exactly how long we have to do that before we fall asleep. I was working with someone last year on his sleep. I asked him what he did when he couldn't fall asleep. He said, "What do you mean? I lie there."
And I said, "Well, no wonder you're miserable!"
This is the worst mistake you could make. I recommend giving yourself 20-30 minutes to fall asleep. That may be with a book. It may be with lights out. It may be with your phone. But if you're not falling asleep after that, get out of bed (unless you're really into your book). Go out of the bedroom and do something else- not a rigorous workout – but something else.
We talk more about what's good to do when you can't fall asleep and how to work with your body's natural sleep cycles to fall asleep more easily in my online group!
The groups runs LIVE for 4 weeks at 12:00 – 1:00pm EST and is recorded in case you can't make it. You'll learn all kinds of ways to make your sleep better and have 6 different hypnosis files you can use as well!
You have until Midnight tonight EST / New York time zone to sign up!
 Sign Up for Sleep Better, Feel Better Here
Starting tomorrow! Tuesday, May 5th, 2020 at Noon EST / 9am PST
You're only 4 hours away from Better Sleep!