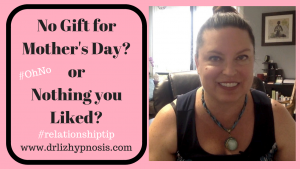 Hopefully, you had at least a decent Mother's Day. For most moms, there's that moment when it's like, "Welllll, back to real life," generally right after breakfast. But sometimes there's real grief that happens when you don't feel honored at all. 
Those of you who have known me for years know that my ex-husband had a habit of not giving me gifts even when I wanted them. At the time, gift giving was my top love language so it was doubly hurtful. (Your love language can change over the years, btw, as mine has.)
This video is for the mamas who didn't get anything or didn't get anything they liked. I hope it helps someone either now or down the road.
Although my office is in Broward county and the Fort Lauderdale / South Florida area, I work with people all over the world. If you would like individual or couples counseling, schedule a free consultation to see if we're a good fit to work together using the link below or above.
Yours in health,
Dr. Liz