One of my daughters and I were driving along in the car the other day. She asked about a package that had come in for the other one. I quickly said, "It's a secret!"
And she said just as quickly, "But you said we don't keep secrets!" So I corrected myself. "Oh! You're totally right! We don't! It's a surprise!"
Secrets vs. Surprises
Surprises are a secret that you keep for a little while but that you plan to tell. Secrets are when someone asks you not to ever tell.
It's the unfortunate truth that a lot of sexual abuse happens with someone the child knows. The highest risk category of abusers are someone the child knows, and is often family – an older cousin, an uncle, and aunt (women abuse too), a close family friend.
Prevention Strategies for Sexual Abuse
One of the prevention strategies that is backed by research is teaching your kids NOT to keep secrets. And teaching them the difference between secrets and surprises.
Abusers ask them to keep secrets and it allows the abuse to perpetuate and the effects of the abuse to last far longer than if the child tells. Research is very clear that even talking to just one other person about it, even years and years later, will reduce the traumatic effects of abuse. Journaling also has significant positive affects.
Teach your kids that you WILL believe them, that they'll never get in trouble for telling you about something someone asked them to keep secret, that you'll help them . . . And to not keep secrets.
What about Friends and Secrets.
As kiddos grow older, their friends may ask them to keep a secret. Personally, I've taken a hard line policy around this. Kids sometimes disclose abuse to other kids. My girls were taught to say something along the lines of, "We don't keep secrets in my family. I won't tell other friends, but I might need to talk to my mommy about it."
There's a researcher and clinician who has done a ton of work in this area, Feather, Berkower. For more about Prevention, take Feather Berkower's online course about Keeping Kids Safe, join her FB page, "Parenting Safe Children" or read her book "Off Limits."
Please be aware that if you have a history of sexual abuse, this book may trigger you. I suggest reading it with support – a friend, an understanding spouse or family member, or a therapist. It is not something to read alone and can be triggering even if you don't have a history of sexual abuse. Talk about it with a friend or your partner.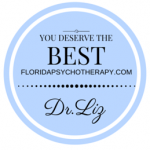 If you struggle with the after-effects of trauma and abuse in your own life and want it to affect you less, to feel more stable, please call for a free consultation  in the Broward County and the Fort Lauderdale / South Florida areaat 954-309-9071.
Yours in health,
Dr. Liz