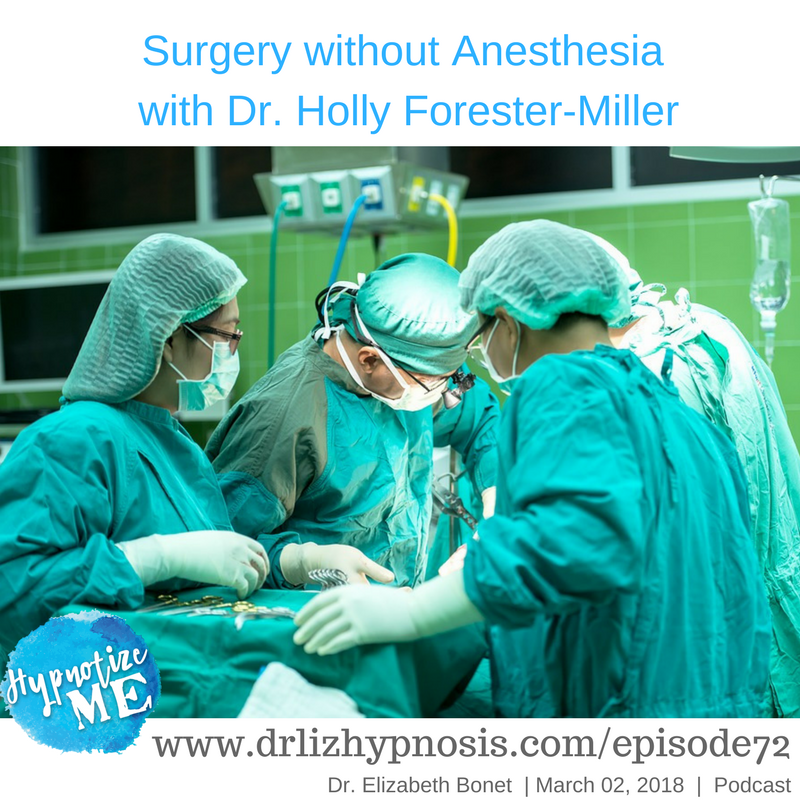 I know that this is one of the more "Out There" topics in hypnosis. I actually shy away from watching these videos myself. But I'm also the person who has to close my eyes when surgery comes on t.v. It makes watching Grey's Anatomy harder for sure (but I manage)!
The research is very clear that hypnosis before surgery helps reduce bleeding, shorten surgery times, and quicken healing times. But why in the world would someone have surgery without anesthesia? Dr. Holly Forester-Miller had such a bad reaction to anesthesia previously in her life that it put her in a coma for 3 days. Awful! She walked around with a condition just dealing with it for years until she happened to hear someone speak about how she had surgery with no pain, no blood loss, and no anesthesia using hypnosis. Within 2 months, she had scheduled her own surgery.
Dr. Elizabeth Bonet airs part 2 of her interview with Dr. Holly Forester-Miller who had a life-threatening risk from the anesthesia but still needed surgery. Dr. Forester-Miller was a professor for over 22 years and a medical instructor at Duke University Medical Center for 15 years.  She is the President of Wellness Consultants International, PLLC in Durham, NC, a Licensed Professional Counselor, and a medical hypnosis specialist. Dr. Forester-Miller has been a consultant for over twenty years to organizations throughout the United States and internationally. She has conducted workshops and presentations all over the world.
She talks about three keys needed for any hypnosis to be successful.
1.  Concentration (which doesn't have to be that great)
2.  Belief (which can be educated with research and experience)
3.  Motivation (which is always personal)
Dr. Forester-Miller can be found at:  https://www.facebook.com/MedicalHypnosisConsultants/
 Watch the video of her having surgery!

———
Hypnotize Me is the podcast about hypnosis, transformation, and healing. Certified hypnotherapist and Licensed Mental Health Counselor, Dr. Elizabeth Bonet, discusses the research behind hypnosis, interviews the professionals doing it, and talks to individuals who have had hypnosis to see what happened afterwards. Free hypnoses are also given from time to time. If you're interested in learning more about the magic of hypnosis, psychotherapy and mindfulness, this is the perfect place to feed your fascination!
Thank You for Listening
I know that our lives are busy, and I'm grateful that you took the time to listen to this week's podcast.
If you enjoyed today's episode, please share it with colleagues and friends using the social media buttons on this page.
Please consider leaving an honest rating and review for the podcast on iTunes as this helps the podcast reach more people to help in their journey towards transformation and healing.
Finally, feel free to join over 2,500 members who have signed up for the Conversations for Effective Living Newsletter.
You'll learn valuable tips for your life and get the podcast episodes delivered right to your inbox.
You'll also get FREE access to several Hypnosis Files you can download, share with friends, and use at your leisure.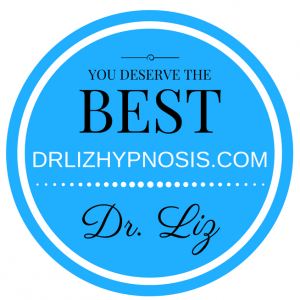 ---
I specialize in hypnosis for anxiety and chronic conditions. Although my office is in Broward county and the Fort Lauderdale area, I work all over the world. If you would like the magic of custom hypnosis, email me at drliz@drlizhypnosis.com.
Yours in health,
Dr. Liz
evice.