List Making Reduces Anxiety! No, really!
Part of anxiety treatment that I do in my practice in Broward/Fort Lauderdale is to explore how the client can focus their mind. Anxiety often comes in and overwhelms someone and the person is unable to focus on what they want to focus on. So let's calm down the mind by making it focus on anything first. Then we can focus it on something we want it to.
Rote tasks are part of this initial focusing.
Filing papers
Sorting mail
Brushing the dog or cat
Folding clothes
A client recently  brought in this book, "List Your Self:  Listmaking as the Way to Self-Discovery" which is a book of lists you can make. It gives you prompts to focus your mind. Feeling anxious? Whip out this book and start making a list of 20 things you would like for Christmas or 10 things you did when you were 8 years old.
I recently did a podcast about how hypnosis helps anxiety. You can listen to it on the website or subscribe on your phone and listen to it whenever you're working out, walking, cooking, or driving! Podcasts are another way to focus your mind and put your attention on something instead of whatever it is that makes you anxious. They're like on-demand talk radio on any topic you like.
My podcast, Hypnotize Me, is all about hypnosis, transformation, and healing. But there are podcasts on every topic under the sun.
Solo Parent Life is a good one for single parents.
Women in Depth goes into the inner lives of women. I love the host's voice – so calm.
Her Life Unscripted is fun, fast, as well as being thoughtful about what happens when our lives don't turn out exactly like we planned!
Two of my favorites of all time are the Robcast by Rob Bell and 10% Happier by Dan Harris of ABC news. That one is all about meditation.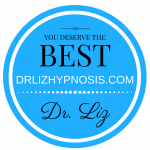 If you would like the magic of custom hypnosis, email me at drliz@drlizhypnosis.com. If you're local to Broward county or the Fort Lauderdale area, we'll do it in person. If not, we'll arrange an online appointment.
Yours in health,
Dr. Liz