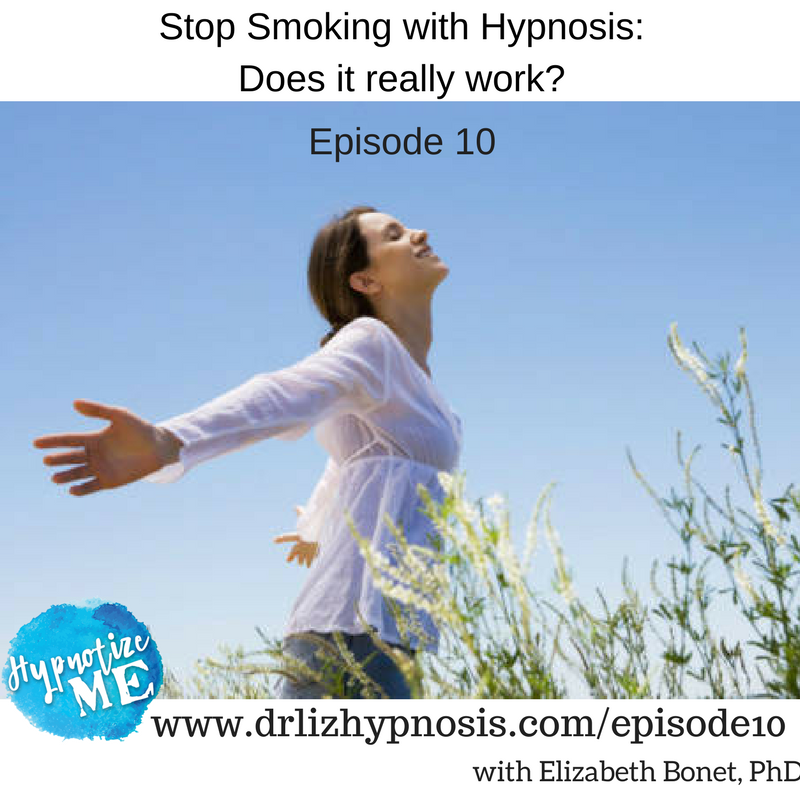 Overview
Dr. Liz reviews some of the research on smoking cessation and what works best to stop smoking with hypnosis. The research is varied and spans back 50+ years. More scientifically rigorous studies began in earnest in the 1980s and 1990s. The success rates vary with the method used, from 20% (deplorable!) to as high as 88% (incredible!).  Listen in as she goes over several studies and gives the low down on what works better to stop smoking with hypnosis.
Resources Mentioned
Here are the studies that I talked about during the podcast. Before we get started, for comparison . . . If a smoker tries to stop smoking on his or her own, they have about a 5% success rate. If they try tobacco replacement products, it's about 25%. And if they try straight behavioral therapy without hypnosis, it's about 25% success. Now we'll look at the research on using hypnosis to stop smoking.
Herbert Spiegel (1970)
A single-treatment method to stop smoking using ancillary self-hypnosis, International Journal of Clinical and Experimental Hypnosis, 18:4, 235-250, DOI: 10.1080/00207147008415923
http://dx.doi.org/10.1080/00207147008415923
Spiegel studied "Hard Core Smokers," smokers who had attempted several times to stop smoking and failed. The study found a 20% success rate with one single session of hypnosis to stop smoking. Not very good but better than nothing!
Agustín Bayot Ph.D. , Antonio Capafons Ph.D. & Etzel Cardeña Ph.D. (1997)
Emotional Self-Regulation Therapy: A New and Efficacious Treatment for Smoking, American
Journal of Clinical Hypnosis, 40:2, 146-156, DOI: 10.1080/00029157.1997.10403418
http://dx.doi.org/10.1080/00029157.1997.10403418
Bayot, Capafons, and Cardena studied smokers and offered them a treatment method of hypnosis to stop smoking
with 6 sessions. The first four sessions were give twice a week with the last two once a week. They used hyponsis and also taught emotional regulation skills, i.e., what to do with feelings that come up other than having a smoke!
They had an 82% of non-smoking at the end of treatment and a 66% success rate of non-smokers at 6 month follow-up. That's great! And much higher than people who try to do it on their own or with tobacco replacement products.
GARY ELKINS , JOEL MARCUS , JEFF BATES , M. Hasan Rajab & TERESA COOK (2006)
Intensive Hypnotherapy for Smoking Cessation:A Prospective Study , International
Journal of Clinical and Experimental Hypnosis, 54:3, 303-315
http://dx.doi.org/10.1080/00207140600689512
Elkins, Marcus, Bates, Rjab, and Cook studied 8 visits over a period of 2 months, so that's about once a week therapy to stop smoking. Their hypnosis sessions were highly customized to the individual and the treatment model involved lots of check-ins and support through the telephone. They found a 40% initial stop smoking rate. Then it went up to 60% at 12 weeks post-treatment (about 3 months) and dropped back down again to 40% at 26 weeks (that's about 6 months). I think 40% is pretty good and double what you find with tobacco replacement products or straight behavioral therapy.
Jean Holroyd (1980)
Hypnosis treatment for smoking: An evaluative review, International Journal of Clinical and Experimental Hypnosis, 28:4, 341-357, DOI:
10.1080/00207148008409863
http://dx.doi.org/10.1080/00207148008409863
Holroyd looked at 17 different studies on hypnosis and smoking. He found a range of success rates from 4% to
88%. The average success rate at 6 months follow-up was over 50%. Better than chance and way better than trying on your own or any other therapy. The ones with the highest success rates did 3-6 sessions, were individualized to the client, meaning we look at what your own motivations and habits are and customize the hypnosis to you. Higher success rates also had quite a bit of follow-up support.
Steven Jay Lynn , Joseph P. Green , Michelle Accardi & Colleen Cleere (2010)
Hypnosis and Smoking Cessation: The State of the Science, American Journal of Clinical
Hypnosis, 52:3, 177-181, DOI: 10.1080/00029157.2010.10401717
http://dx.doi.org/10.1080/00029157.2010.10401717
Lynn, Green, Accardi, and Cleere also review the studies that have been done on hypnosis and conclude that hypnosis may be more efficacious than other treatments, but they can't really say for sure. It depends so much on what is done during the study. They do acknowledge that more individualized treatment seems to be better and call for more rigorous scientific studies.
Gary R. Elkins & M. Hasan Rajab (2004)
Clinical Hypnosis For Smoking
Cessation: Preliminary Results of a Three-Session Intervention, International Journal of Clinical
and Experimental Hypnosis, 52:1, 73-81
http://dx.doi.org/10.1076/iceh.52.1.73.23921
Elkins and Rajab studied a 3 session protocol to stop smoking with hypnosis. Assessment (and not Hypnosis) was done in the first session to more individualize the treatment. The second and third sessions included hypnosis and then they sent the people home with tapes to listen to at home. They had an 81% success rate (fantastic!) at the end of treatment. At one year follow-up, 48% has remained non-smokers. That's pretty good!
More Resources On the Website
Downloads to help your life. I offer several hypnosis files to help you feel calmer and less anxious.
If you would like to Quit Smoking and you're in Broward County, please look at my Quit Smoking page.
Thank You for Listening
I know that our lives are busy, and I'm grateful that you took the time to listen to this week's podcast.
If you enjoyed today's episode, please share it with colleagues and friends using the social media buttons on this page.
Please consider leaving an honest rating and review for the podcast on iTunes as this helps the podcast reach more people to help in their journey towards transformation and healing.
Finally, feel free to join over 2,500 members who have signed up for the Conversations for Effective Living Newsletter.
You'll learn valuable tips for your life and get the podcast episodes delivered right to your inbox.
You'll also get FREE access to several Hypnosis Files you can download, share with friends, and use at your leisure.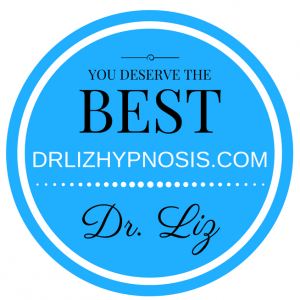 ---
I specialize in hypnosis for anxiety and chronic conditions in Broward county and the Fort Lauderdale area. If you would like the magic of custom hypnosis, email me at drliz@drlizhypnosis.com.
Yours in health,
Dr. Liz