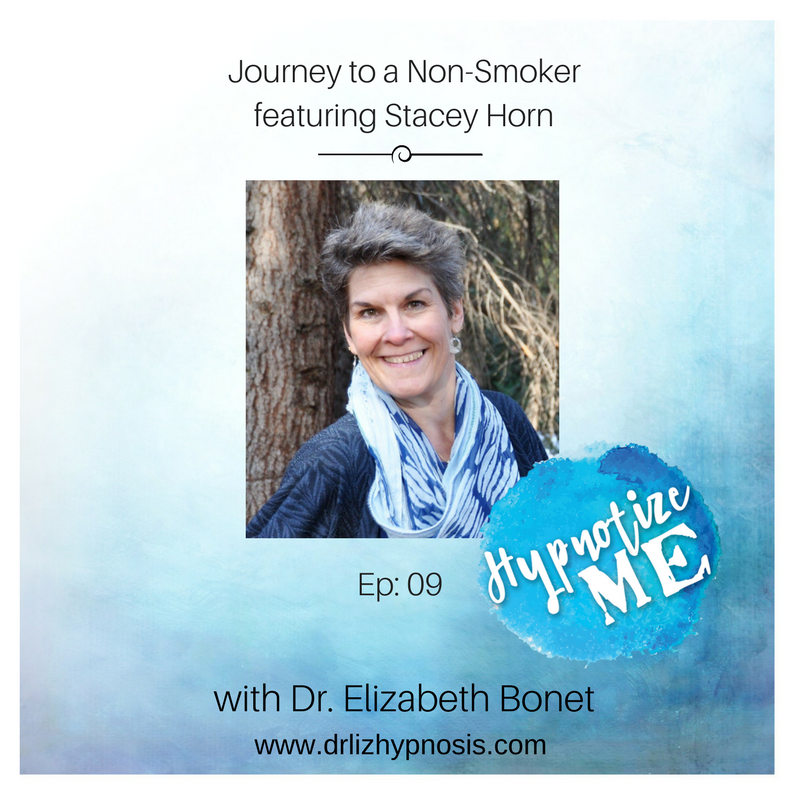 Overview
Stacey Horn, certified hypnotist and coach in Vail, Colorado, makes a guest appearance on the podcast! Dr. Liz interviews her about how hypnosis helped her to stop smoking and her on again off again five year journey from smoker to non-smoker after being a smoker for 25 years. She gives tips about overcoming the first days of withdrawal and how to make the mental shift to thinking of yourself as a non-smoker.
Resources Mentioned
Stacey Horn offers smoking and tobacco cessation services in person and online in her hypnotherapy practice near Vail, Colorado. Stacey's website:  http://www.staceyhorn.com
She has a podcast coming out in late January 2017 called "Deeper Connections."
Her Three Tips for those first days after quitting are:
Drink a LOT of water!
Use a 4-7-8 breath when needed. Inhale to 4 – Hold to 7 – Exhale to 8. (See more about breathing to reduce anxiety here.)
Make the mental shift that you are a non-smoker.
Transcript & Thoughts
I had interviewed Stacey for an upcoming episode on hypnosis and childbirth that's coming out in February, 2017 and we started talking about how she stopped smoking with hypnosis and it was so fascinating that I thought it would make a great episode all on its own, particularly in January. One of the most common New Year's resolutions that people make is to stop smoking. So I thought, "All right. Let me give you a little help with this." Let me give you a little boost in terms of hearing someone else's experience and how they stopped. And also to know that hypnosis is a really, really good option to help you stop smoking, to help tobacco cessation.
If you try to stop on your own, the research on this is that stopping on your own has about a 5 percent success rate. That's really low. Behavior therapy itself, just stand alone behavior therapy, is about a 25 percent success rate. Doing it with tobacco replacement products is about a 25 percent success rate. And hypnosis varies anywhere from 20 percent up to 88 percent.
The 20 percent is more like a single session that people try to do and think it can happen in a single session. I had someone in my own office who did it in a single session. But the research on this, which again we're going to review on a future episode, is that when you're getting up to like three to six sessions with follow up you have a much higher success rate and you're starting to hit that percentage between 60 and 80 percent. So let's get to the interview.
Here's Stacey:
Dr. Liz:
So you are a smoker. And then you use hypnosis to stop smoking in 2000?
Stacey Horn:
Well I that was my first effort with it. I stopped for six months and then I was crazy enough to decide that I wanted to be a smoker more than a nonsmoker at that point.
Dr. Liz:
Why? I'm asking because a lot of smokers who become non-smokers have that experience. Like somehow this is better. So can you tell me a little bit about that process?
Stacey Horn:
To the best of my knowledge, I think I just at that time didn't have skills that would help me relax enough in situations that I could use at the time. I could teach them to other people but I wasn't applying them to myself. I tried a couple of other different methods to stop smoking at that point as well. I used "cigarest." I don't know if anyone even remembers that one. What is that. It's a little extract. And back in they were in the 1980s it was on TV like at [3:00]  in the morning. Cigarest, that "this is your brain on drugs "commercial which showed a fried egg, and they probably followed each other.
Dr. Liz:
Yes. Yes.
Stacey Horn:
The two were in inextricably intertwined in my mind. I stopped again using that self-hypnosis for another six months and went back. Just really crazy. But I finally stopped the day I got married in 2005. So after 25 years of smoking. That was the reason I wanted to be a non-smoker more than I wanted to be a smoker.
Dr. Liz:
At that point, was your partner a smoker or nonsmoker.
Stacey Horn:
Absolutely a non-smoker. And it was a deal breaker. It was.
Dr. Liz:
Wow. So how was that put to you if you don't mind saying that?
Stacey Horn:
Not at all. He just said, I know this is what I want with you but smoking . . . I don't want that as a part of my life. And I realized that I wanted the life with him so much more than I wanted the smoking. And so when I do work with people around tobacco cessation that's kind of how I approach it with them.  "What do you want more? Do you want to be smoking or is there something, the healthy lifestyle that you want, as a result of being a non-smoker?"
Dr. Liz:
Yeah. So can you tell me about this period of on and off . . . What were the hardest days? When you said OK this person is more important to me than being a smoker. Did you go through withdrawal? Was it easier? Every time you tried to stop was harder? Tell me about that process.
Stacey Horn:
It was easier every time. I think by the time I finally stopped, which was in 2005, I was more easily using the techniques of relaxation and stress management. I was doing more focused breathing. I was seeing myself as a nonsmoker and I think that's one wonderful thing that happens with hypnosis is people go from I'm trying to stop smoking to, "I'm a nonsmoker."
Dr. Liz:
Were you using the hypnosis files on and off during that time?
Stacey Horn:
Yes, I was.
Dr. Liz:
OK, So did you go and see someone and then they sent you home with hypnosis to listen to? Or was it like you saw this person multiple times over a couple of years?
Stacey Horn:
It was a clinic that I went to in Phoenix and I went a couple of times initially and they gave me a whole set of cassette tapes. That's how long ago it was. To take to practice with myself and I periodically used them. I never went back to that clinic or went to any one I just used the tapes.
Dr. Liz:
You found the tapes helpful even years later . . .  you're talking five years later really?
Stacey Horn:
Yeah yeah yeah I did. I didn't use them real thoroughly or consistently but I think it truly reinforced me going from "I'm trying to stop smoking, everyone is trying to stop smoking to, "I'm a nonsmoker and it's just something I used to do."
Dr. Liz:
So you feel like once you finally made that shift, you're able to do it, to really see yourself that way. I do the same thing when I do hypnosis. Like a large part of the hypnosis is actually talking about the person as a non-smoker already. Like the minute they come into my office they're a non-smoker and really instilling that belief in them.
Stacey Horn:
Yeah, that was the shift that needed to happen.
Dr. Liz:
Very interesting. And then also the other skills.  So you're saying in that time period where it is on and off, you learned some more stress management skills basically so that smoking didn't have to fulfill that need in you anymore.
Stacey Horn:
Yeah. And I changed circumstances in my life at that point as well which only supported the changes that I was intent on making.
Dr. Liz:
That's wonderful.
Stacey Horn:
Yeah. It's after I smoked for 25 years and I've been a non-smoker now for 11. So it gives me great pride to know that my daughter will never know me as a smoker.
Dr. Liz:
Wow. Absolutely, absolutely. Kids are a great motivation as are our partners and loved ones. Really.
Stacey Horn:
Yeah. And it motivates me so much. As far as when I'm doing tobacco cessation work with people because I know it. I get it. I know all the excuses and all the stories that we tell ourselves. I'm certainly a success story for tobacco cessation.
Dr. Liz:
Absolutely. So do you ever get a craving? Do you ever get triggered even 11 years later?
Stacey Horn:
No. And it's funny, up here people are really healthy. Here in the mountains. Hypothetically. But boy there are a lot of closet smokers. I do notice that when I'm walking through parking structures or even just walking out in the open when  smoke wafts my way. I'm just so attuned to it. I really find myself  wanting to give people my business cards saying, "When you're ready to give this up . . . " Because I know I hated it all the time that I smoked.
Dr. Liz:
So yeah, I think smokers often talk about deep self-hatred that goes on. You know I try to address that in hypnosis to stop smoking in my office in Broward. It's just that it's a horrible state to be in – self-hatred. Like how wonderful it would be to be in self-love and self-respect.
Stacey Horn:
Exactly. And it's that it was part of the shame core that there's something wrong with me; that I'm doing this [smoking]. But there's something wrong with me that I can't stop. Yes. I think that was kept me stuck for a while, kept me trying to stop smoking as opposed to just being a non-smoker.
Dr. Liz:
So where are you doing some work, some psychological work on your own or with a therapist around the shame core?
Stacey Horn:
In those intervening years, honestly, I had done quite a bit before that but it wasn't till that point in those years that I really started connecting the shame core with the tobacco use. For some reason, those didn't quite connect for me until I really started looking at it and going OK I know what this is. Something's wrong with me that I keep doing this. So it was once I got that piece, that connection, that I was able to apply the tools that I knew to help myself move through it. Just like any addiction, that it was a thought process, that was there was some chemical component to it. Yeah. And I had to put those pieces together before that could end.
Dr. Liz:
Yes. Yes. Really interesting. So what do you advise people in those first . . .  I think it's only 48 hours that the actual physical addiction is there and then it's gone. It's only two days.
Stacey Horn:
Yeah.
Dr. Liz:
Yeah it's so short. And people are really surprised to know that. They don't even really know that, a lot of smokers. If you can make it two days then really we're talking about a psychological addiction, not a physical. So what do you advise your clients who are coming in for hypnosis for tobacco cessation?
Stacey Horn:
I advise them to one of the reinforcers I build into the hypnosis. Any time you have an urge to smoke, you'll have a tall glass of cold water. Because dehydration causes so many problems because we're at 9-10,000 feet up here. So it's very dry so I reinforce the need to use lots of clear clean water to flush out anything that's remaining in their body. As well as to replace the empty hands syndrome with lots of water.
Dr. Liz:
Yeah. Talk about the empty hands syndrome. It really is a struggle for people. Often it doesn't have to be though. So there's there's plenty of us walking around. They figure out what to do with their hands without a cigarette.
Stacey Horn:
Yes.
Dr. Liz:
And it seems relaxing. To notice what people are doing with their hands in just a normal day to day way. So cool glass of water . . .Anything else?
Stacey Horn:
Breathing. I like to recommend breathing into four, for holding for the count of seven, and exhaling through the count of eight. Doing that three or four times and explain that begins to gear the brain down into the alpha waves which is where relaxation hypnosis occur anyway.
Dr. Liz:
Yes I love the 4-8 breath as well. I taught it for a long time in prenatal yoga. It's really a yoga breath. It's an intense yoga breath but I think it's so helpful for smoking because smoking is deep breathing.
Stacey Horn:
Breathe in – hold – exhale. Yes. And I have worked with people here in Colorado to apply it to stopping cannabis use as well. There have been a couple of people who've come who found it to be problematic for them. And I think even more so the holding the breath is has been attached to that for the people that I've worked with in that area.
Dr. Liz:
Yes, absolutely. And I'm sure I'm in Florida . . . It was just legalized here at the very end of 2016. I know I'm going to start to see that in my practice –  stopping cannabis use if it's becomes problematic for somebody's life.
Stacey Horn:
I'm pretty sure you will see it.
Dr. Liz:
So OK so deep breathing, the cool glass of water. Anything else?  Like any kind of third tip for people who may be listening to this and saying OK I want to go get hypnosis or I want to try this on my own?  But I need skills to get through those first couple of days.
Stacey Horn:
Well I think for myself just that shift to reminding myself and offering affirmations to people that you are trying to stop smoking. You are a non-smoker when you walk out of the office. You are a non-smoker once and for all.
Dr. Liz:
So making that shift mentally. Yeah. Wonderful. Thank you so much for sharing your experience around being a smoker for many years and then being a non-smoker and what that was like for you and how hypnosis truly helped you over a period of years really to become the non-smoker that you wanted to be.
Stacey Horn:
It's almost the best gift that hypnosis has ever given me besides my daughter.
Dr. Liz:
Absolutely!
Wrap Up
What an incredible interview with Stacy Horn. Quite a journey she had from being a smoker to a non-smoker because it took her years to do that. But she said when she was ready, she was ready and you know sometimes that does happen for people. We always wish as hypnotherapists that it happens in those first couple of sessions. It does happen for an incredible percentage in one to three sessions. For other people, it takes time.
It takes really getting to their shame core and it takes getting to, "What is more important to me than smoking."
More Resources On the Website
Downloads to help your life. I offer several hypnosis files to help you feel calmer and less anxious.
If you want to Quit Smoking and you live in Broward County, please see my Quit Smoking page!
Thank You for Listening
I know that our lives are busy, and I'm grateful that you took the time to listen to this week's podcast.
If you enjoyed today's episode, please share it with colleagues and friends using the social media buttons on this page.
Please consider leaving an honest rating and review for the podcast on iTunes as this helps the podcast reach more people to help in their journey towards transformation and healing.
Finally, feel free to join over 2,500 members who have signed up for the Conversations for Effective Living Newsletter.
You'll learn valuable tips for your life and get the podcast episodes delivered right to your inbox.
You'll also get FREE access to several Hypnosis Files you can download, share with friends, and use at your leisure.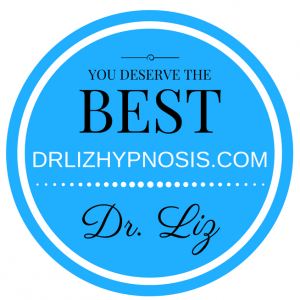 ---
I specialize in hypnosis for anxiety and chronic conditions in Broward county and the Fort Lauderdale area. If you would like the magic of custom hypnosis, email me at drliz@drlizhypnosis.com.
Yours in health,
Dr. Liz