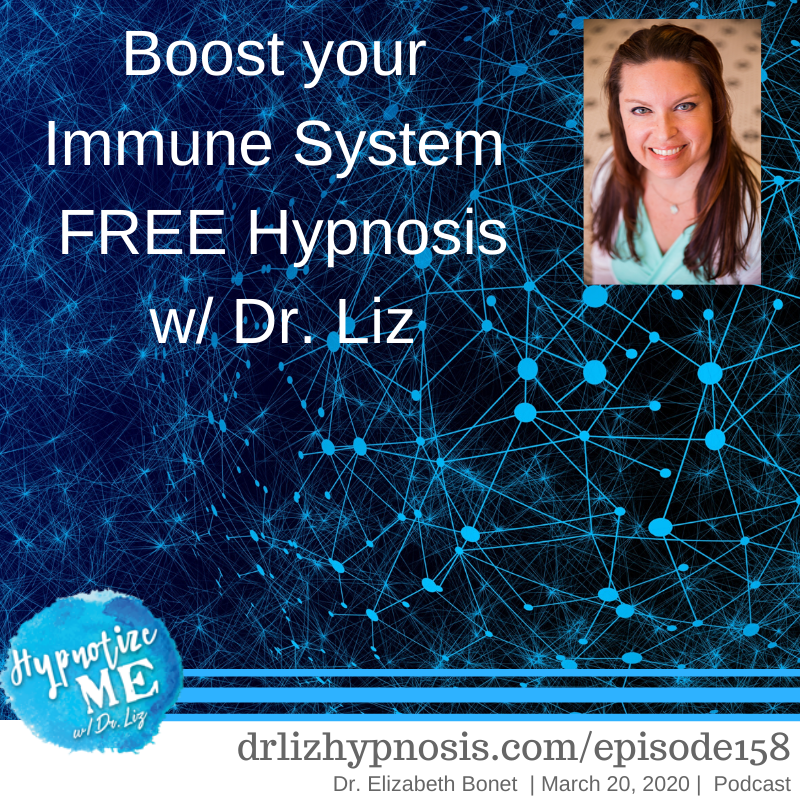 No matter where you are in the world or how your health is right now, chances are you can use a Boost to your Immune System! Science has shown that it's easier than you think, just by using imagery and/or listening to someone talk about it. Listen and feel free to SHARE this completely FREE Hypnosis to Boost your Immune System!
The hypnosis starts at about RT [7:00] minutes. Please make sure you're in a safe place before starting the hypnosis. If you're driving a vehicle, either fast forward the relaxation part or turn off the podcast until you're able to listen to it at a better time.
Dr. Liz gives a couple of tips to reduce anxiety during these stressful times of the Corona Virus and then gives a free hypnosis. Thank you to Wendi Friesen at http://www.wendi.com for the original script. You can use this hypnosis at any time for any reason. It's not specific to any particular virus or condition.
Why I made this hypnosis to Boost your Immune System
Don't just plan . . . Accomplish your dreams with the Dreambook Planner! An artistic, spiritual planner. The undated version is Dr. Liz's favorite because you can buy it anytime to start dreaming and planning! Affiliate Link: 
https://dragontreeapothecary.com/collections/rituals-for-living-dreambook/products/rituals-for-living-dreambook?ref=c9r2pkp0qhw
——————–
See more about Dr. Liz and get Free hypnosis files at http://bit.ly/drlizhypnosis
Search episodes at the Podcast Page http://bit.ly/HM-podcast
Help yourself with Hypnosis Downloads by Dr. Liz! http://bit.ly/HypnosisMP3Downloads
Twitter @DrLizBonet#hypnotizemepodcast | YouTube  |  FB |  LinkedIn
———
A problem shared is a problem halved.In person and Online hypnosis for healing and transformation. Schedule your free consultation at https://www.drlizhypnosis.com.
Listened to in over 140 countries, Hypnotize Me is the podcast about hypnosis, transformation, and healing. Certified hypnotherapist and Licensed Mental Health Counselor, Dr. Elizabeth Bonet, discusses the research behind hypnosis, interviews professionals doing transformational work, and talks to individuals who have had hypnosis. Free hypnoses are also given from time to time. If you're interested in learning more about the magic of hypnosis, psychotherapy and mindfulness, this is the perfect place to feed your fascination!
Thank you for tuning in! Please subscribe to auto-download new episodes to your listening device.
After you listen to a few episodes, please consider leaving an honest rating and review of the podcast.
Click on this link: https://itunes.apple.com/us/podcast/hypnotize-me-dr.-elizabeth/id1181272913
Select "View in itunes"
Choose "Open in itunes"
Choose "Ratings and reviews"
Click to rate the number of stars
Click "Write a review"
Hear my voice in your head saying, "Thank you so much!"
Transcript of Talking Part (Hypnosis starts at about 7 minutes in)
Hi everyone, Dr. Liz here. And this episode is airing in mid March of 2020. We are right in the midst of the corona virus, worldwide pandemic and crisis so I thought one of the best things that I could do is actually air a free hypnosis to boost your immune system so that it helps you fight off the virus that helps you recover if you do have the virus, all of that good stuff.
Now, I do want to say that this is not a substitute for doing all the good practices like washing your hands and wearing a mask if that's recommended by your doctor, anything your doctor recommends, staying at home, social distancing, all of that stuff still has to go on.
But this can also help you in a natural way. Not just boost your immune system but feel calmer and better too. I know a lot of people are anxious right now I'm actually going to err bonus episode a replay of my reduce anxiety and panic attacks episode which is really really popular. If you want to look it up right now though. It's Episode 130. So not too long. Long ago, and that has some helpful tips in it. But really, I would say the biggest tip I can give you right now is to try to stay present.
So what happens in our minds when we begin to think of the future is that it creates anxiety like what's gonna happen and what's gonna do this And believe me, I've been there, okay, be gentle with yourself around this be compassionate. You know, I have my daughter's schools closed for a month, the eighth grader and then the freshmen who are staying in Italy has been evacuated on March 4. So she's been home for two weeks and she'll be home for the rest of the semester because they're finishing the classes online.
So I have a full house right now and I sometimes go to anxiety, but I continue to bring myself back to the present. Today, I have enough toilet paper today. We have an food today we have a safe home. Today, nobody is sick. So when I check in like that, then it helps reduce the anxiety, it helps me stay present. And you know, I'm a big fan of meditation too. So even if that means a minute or two minutes or five minutes, it's helpful just to tune into your breath, and calm down.
I'm going to post a video of a really easy way to do that. And I also have a video about the intro to this hypnosis if you want to share that it's going to be on my website: https://www.drlizhypnosis.com/Episode 158. So if you want to share this with anybody, they can go to my website and hear it if they don't have a podcast player, or they're not into podcasts. They can both see the video that's very brief about it. I think it's less than two minutes as well as get the free hypnosis to boost their immune system. So both of those are wonderful. All right, so please feel free to share this with anyone you want to or need to. We know from all kinds of medical studies that they do about hypnosis, that it can actually help boost your immune system. I consider it like a miracle really. But they know that imagery helps. They did studies on people going through cancer. They do brainwave studies in deep tissue samples and all kinds of stuff, where they know that using imagery in a relaxed state, helps your immune system function better. So even if you don't listen to this whole thing, let's say you pause for a minute or two a day, and just imagine your white blood cells, moving through your body, doing all kinds of good stuff for your body, right? Even that will help you. So I encourage you to use that imagery, I think of my white blood cells as swimmers.
In the past, I've used imagery like my white blood cells are Little swimmers there. They appear to be like cartoons of my mind. I don't know why little elves I used that before little elves like knitting all my tissues together, let's say when I've hurt myself for I just had surgery two weeks ago today. So knitting everything together, you know, helping me heal. You can picture them any way you like. Magical, not magical doesn't matter. Okay, you can picture them as like factual what they really look like, if you like. But when you pause to do that, it actually does help your immune system. So that's just something to know. All right, I'm not going to talk too long here at the beginning, you're going to hear a gong, and then the gnosis is going to start. Please remember to listen to this when you're in a safe place when you're not driving, or operating heavy machinery.
Okay, so if you're listening to this in the car, go ahead and stop it. Now. I would say Until you get home or wherever you're going to where you can listen to this in a very safe place someplace where you can relax. All right. I hope everyone stay safe during this pandemic. And please feel free to contact me. I do tele mental health, they call it all over the world. I really do. We use zoom or the telephone to help you and it works really well. It's extremely effective. So I've experienced it myself as a client, and I've experienced it as a hypnotherapist that it's extremely effective even through the phone or through video, so please feel free to reach out. Oh, one more thing before I go. I am launching an online group for insomnia to help you sleep better. That is coming up in the next couple of weeks. So if you're interested in that, check my website And see when it's starting and how to sign up. Okay.
Now some of this hypnosis I got from Wendy Friesen, she wrote a wonderful script. That's what we call them in hypnosis world. The practice in our world the script for healing and I've modified it so that we're boosting your immune system. But I did want to credit her she has the most wonderful domain name, Wendy calm. Isn't that awesome? She must have registered it forever ago. W e n d i.com. So if you want to learn more about her work with her, please go over to her website. Alright, here we go, everyone. Peace.