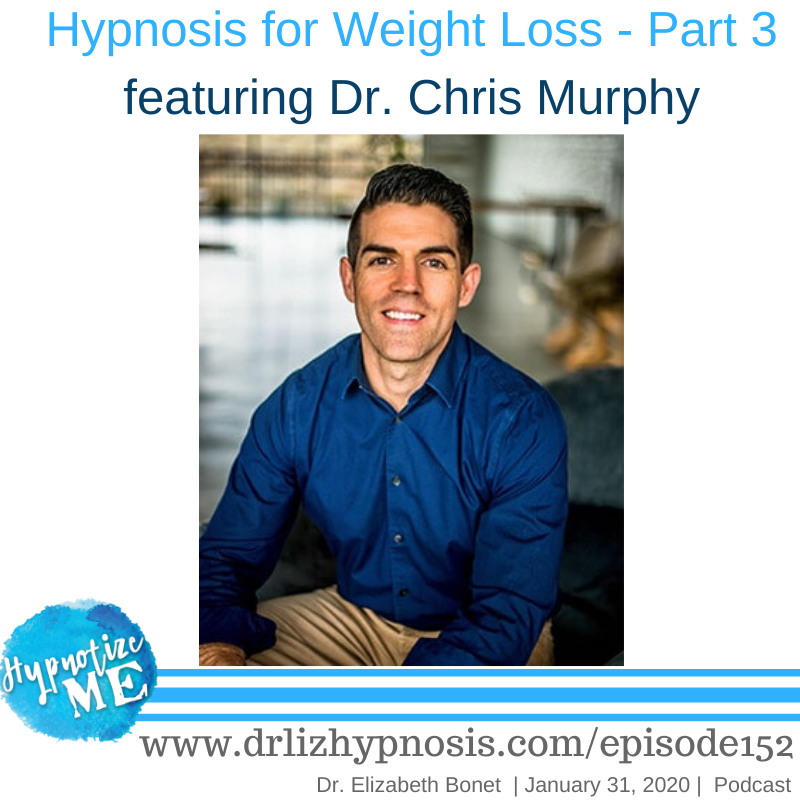 Dr. Chris Murphy joins the podcast for Part 3 of the Weight Loss series. He and Dr. Liz talk about:
The 5 Foundations of Health
The 80/20 Rule
Why diets don't work
Murphy's online Weight Loss program
How Hypnosis integrates into Weight Loss
Dr. Murphy is the Clinical Director of NewEdge Wellness Center, the host of "The Dr. Chris Show" on ACN radio, voice of the Happy Healthy Hormones podcast, and an international best-selling author. See more about him or check out his online programs and workshops, including weight loss, at https://www.drchris.com
Affiliate Link:  See more about the Dreambook Planners (the ones Dr. Liz uses) at  https://dragontreeapothecary.com/?ref=c9r2pkp0qhw
——————–
Text the word Hypnotize to 444999 to join the newsletter and get a free hypnosis file!
See more about Dr. Liz and get Free hypnosis files at http://bit.ly/drlizhypnosis
Search episodes at the Podcast Page http://bit.ly/HM-podcast
Help yourself with Hypnosis Downloads by Dr. Liz! http://bit.ly/HypnosisMP3Downloads
Twitter @DrLizBonet#hypnotizemepodcast | YouTube  |  FB  |  LinkedIn
———
A problem shared is a problem halved.In person and Online hypnosis for healing and transformation. Schedule your free consultation at https://www.drlizhypnosis.com.
Listened to in over 140 countries, Hypnotize Me is the podcast about hypnosis, transformation, and healing. Certified hypnotherapist and Licensed Mental Health Counselor, Dr. Elizabeth Bonet, discusses the research behind hypnosis, interviews professionals doing transformational work, and talks to individuals who have had hypnosis. Free hypnoses are also given from time to time. If you're interested in learning more about the magic of hypnosis, psychotherapy and mindfulness, this is the perfect place to feed your fascination!
Thank you for tuning in! Please subscribe to auto-download new episodes to your listening device.
After you listen to a few episodes, please consider leaving an honest rating and review of the podcast.
Click on this link: https://itunes.apple.com/us/podcast/hypnotize-me-dr.-elizabeth/id1181272913
Select "View in itunes"
Choose "Open in itunes"
Choose "Ratings and reviews"
Click to rate the number of stars
Click "Write a review"
Hear my voice in your head saying, "Thank you so much!"
Transcript
Dr. Liz
Hi everyone Dr. Elizabeth Bonet here Dr. Liz Welcome to the hypnotize me podcast. Before we jump in, please note that the podcast is not mental health treatment nor should it replace mental health treatment. If you need psychotherapy or hypnotherapy, please seek treatment from a trained professional. I do hypnosis all over the please feel free to contact me through my website Dr. Liz hypnosis com.
Hi everyone, Dr. Liz here. Welcome to the Hypnotize Me podcast so happy you're here. This is part three of our weight loss series. Part One was Episode 149 which was my personal story, part two so with Kelley Woods is an expert in hypnosis and weight loss and this interview With Dr. Chris Murphy. He's the author of the five foundations of remarkably healthy people, the host of the podcast, happy, healthy hormones. He's also the host of the Dr. Chris show on ESPN Radio. And he has a chiropractic practice in the state of Washington. And he has all kinds of online programs that he offers. I think you'll really enjoy hearing about the five foundations to a happy, healthy life, and how he talks about the 8020 rule. Why diets don't work. We cover all of that in this interview. So enjoy and be sure to check out the other episodes to 149 and Episode 150. You can always find them at my website. Factor. Listen gnosis calm. All right, have a wonderful week. Peace.
Hi, Dr. Chris, welcome to hypnotize me.
Dr. Chris Murphy
Hey Dr. Liz. Great being on
Dr. Liz
Yeah, I'm glad you're here today and just going to jump right in with questions in the first one is how did you get into chiropractic field? How did you be decided to become a chiropractor?
Dr. Chris Murphy
Yeah, so it's kind of a roundabout story. So, you know, I always knew pretty much from high school that I wanted to do something in the medical field didn't really know what you know, I did job shadowing with their doctors, orthopedic surgeons, all kinds of stuff really quickly realized I didn't want to be a medical doctor, for one of the biggest reasons is I didn't want to be a slave to my job. I felt like everyone was this. They had this thing that would be on call. And yeah, it's disrupting their family and like, all these things, so I was like, well, maybe, maybe I go into dentistry because it's like, well, they seem to have a great lifestyle. Like my dentist. I worked like three days a week. He was always golfing. I was like, hey, that's a great thing to do. Right? So yeah, go to one of the school undergrad thinking that hey, that's what I was going to do. And what's that whole process? I actually Graduated from undergrad and was, you know in the process of taking the test to get into dental exam school when I was working for my brother during that time just trying to make some money while I was in between my next step in life, and I end up injuring my shoulder to where I couldn't help him out anymore. I had to find a new job. And so my brother found me a job with his buddy who was a chiropractor. It was him and his brother in law they practice together and I had been to a chiropractor before in the past, but I never really thought much about it. I thought it was more just about like neck pain and back pain. And as I started work with these guys, I started to see all these other miracles happening and like I saw a woman who had been able to get pregnant for years to tried everything. Just started getting this chiropractic care and was able to have a child I saw people that suffer with migraines for decades, come in and come out with not having to deal with migraines anymore. And just like story after story of things I never even related to the field of power. practice and I was like, okay, there's something to this. And so they had always they were always chirping in my ear, like, Hey, you know, you should really think about maybe switching courses and you'd be a great chiropractor this that and, and eventually, it just suddenly shifted in me. And I was like, You know what, I'm just gonna go to chiropractic school I didn't even really still that point of really understand the potential and and what chiropractic really was, and just packed up, everything moved down, there was my dog and showed up and the rest is history.
Dr. Liz
Awesome. So it became a real path for you. Because it seems like you know, I've listened to your podcasts. And for the listeners, Chris has a great podcast. What's the name again? Now? I'm awful with titles. happy healthy hormones. happy healthy hormones. Yes. So I'm great with names like, like Chris Murphy. I'll bring up right but like a title
Dr. Chris Murphy
them. So yeah, so yeah, it's
Dr. Liz
over the opposite. But it's a good podcast, but it seems like it's been quite a journey from you from that first step. Traditional chiropractic even into other areas, that it's evolved into, like a more holistic healing.
Dr. Chris Murphy
Yeah, absolutely. You know, when I first started chiropractic school, like, as I mentioned, it was, Hey, you know what I could, you know, help some people and make a living for my family. But it wasn't until I really started to dive into the world of holistic health and I realized that really the foundations of what chiropractic was was is helping the body heal from the inside out, it really became about the philosophy of that, that health care journey and that foundation that really helped branch out to helping people and others their lives because it all comes down to helping us heal from within. Right We all have the amazing power to heal from within just like what you do with your patients and helping them with hypnosis. It's just about getting the inside starting to work right and starting to remove interferences from how their brain and body processes things and, and that's really what we're working with is is helping the nervous function at its best, and help people reach their fullest potential. And so with that, we really have evolved that and in my practice, you know, both in our clinic and then virtually what we do with patients around the country in the world is really helping them apply the five foundations of their health. And so when we get into the five foundations, we talk about things like function which has to do with the nervous system and making sure that your body is communicating and healing and those pathways in the brain that is close to 100% as possible. We look at things like food which has to do with making sure we're getting the right nutrients in our bodies, and we're not starving ourselves these vital nutrients that we've come to in today's society and the standard American diet so that we're not starving ourselves and, and and allowing our bodies to break down because of that. We look at things like and that can even be things that may be supplements, but it has to start with the foods we're putting in our body. You know, supplements are named supplement for a reason, right? We're supposed to supplement our diet. We're A lot of times in our society, we're really looking at it as a, this is the thing we got to do, I can still do all these bad things that I shouldn't really be doing that I know I should probably change. But maybe if I just take this supplement, it'll be okay. And unfortunately people get tricked is they start to take those supplements, even with this bad lifestyle, and they start to feel better. Because anytime you start with poor nutrition and you add something extra, well, you're gonna feel better. But eventually, your body is going to figure it out and your body is eventually going to catch up with you. And then we have some problems, we look at things like the other Foundation, which is fitness. So that's looking at things like making sure you're working out and the most efficient way possible that you're looking out for your body type and what your goals are. So you're getting the right foundational structure, strength, your body, we look at things like filter which has to do with toxins. You know, are you exposing yourself to known toxins that you're just trying to turn a blind eye to but they're really creating problems and you got to figure out a better way or solution to maybe replace that thing in your life. So that you Don't create long term problems, or maybe they're hidden toxins, you don't even realize you're exposing yourself, your family to, which is maybe in them right now not having a huge effect in your life because these things bio accumulating, and they build up our bodies over time, from different sources. And then eventually we have that crisis at us. And we're trying to figure out where this came from. Well, really, we were doing it to ourselves the whole time. And then we also look at the last Foundation, which might just be one of the most important which is freedom. And this has to do with stress. You know, this has freedom in your finances, your spiritual life, your relationships. It just helped me turn stressors in your life into constructive situations. And, and that's really where I think you really accelerate is really helping people with that aspect. And just helping people that so we look at all those things that we can't look at them as like a buffet line, like hey, you know, I'm going to take just one thing from the food here. I'm going to take one thing over here from the, from the fitness No, it's like you gotta try to live all those foundations. not perfectly, but just consistently, you know, having that at least that 8020 rule where like, 80% of time in your lifestyle, you're doing those things right? Me 20% you have that wiggle room where Hey, life happens or we have, we go on vacation, we had that reward meal, whatever it might be. And you're going to give yourself the best chances to not end up like your grandparents or your your parents, your sister that has the chronic disease, the cancer, the heart disease, the Alzheimers, and you're really gonna live your fullest potential. That's what our whole focuses.
Dr. Liz
It's fascinating not to add an F there, but
I really liked the 80/20 rule. I had some I would say negotiation process with my 13 year old recently and we we settled on a 75 25% type of rule and it's talking to her sister about it. And I said 75% actually isn't, isn't bad. Like that's good. Did you know that you do something 75% of the time? That's pretty good, right? Yeah, yeah, exactly. Right.
Dr. Chris Murphy
I talked to people all the time, you know, or patients saying, Hey, you know what, from the moment you wake up in the morning, to the moment you go to bed, you're constantly making decisions, either building your body towards better health, or towards disease, but our body is never just things. Like we're never just at that perfect equilibrium where we're just got the right it's like, no, we're always making those decisions. So, you know, I might be talking to that person at three o'clock in the afternoon. And I was like, hey, what have you from the moment you woke up today? From to this moment right now? Have you made more decisions to build health or build disease mean you might not have made some good decisions from the time you woke up to this moment right now, but have you made enough that you're going to be able to move yourself in the right direction because we can never go back from the day before and today eat more salad to make up for what we didn't eat? Yesterday, it's over. We can go back, we can start making more decisions today and looking back at today and say, Okay, I did really good or you know what? I could have made some better decisions. So tomorrow, all right, we're gonna have a better day than yesterday. And that'll start getting us to that. 80 8020.
Dr. Liz
Yeah, absolutely. I really like that. And there's a podcast I listened to where he does say actually, okay, you can't go back, right? Same thing, but you can, like eat a great big salad is a reset. He's like, do a reset for your body. And he's saying this sincerely. Like it is a reset to eat really well. So you say, okay, maybe I blew it yesterday, or maybe I blew it at lunch. I don't know. But let me reset my body and put some really good nutrition into it, and then move forward from there.
Dr. Chris Murphy
Absolutely. Yep. It's just about
Dr. Liz
do you work then with complimentary practitioners because that seems like a lot to do. Just for one person.
Dr. Chris Murphy
Yeah, absolutely. You know, in life you got to know what your strengths and your weaknesses are. If you ever come across a doctor that thinks that they know it all, then they can help you with everything. You should walk out the door and go somewhere else. Right? Because
Unknown Speaker
Yeah,
Dr. Chris Murphy
yeah, it is. And, you know, there are certain certain situations where there times where there's things that you know, I can't like for instance, there was this little baby that came into our office, she's a few months back and you know, we have lots of kids but this child had some serious deformity issues with its its school because of things that have happened. And so, you know, there's certain practitioners that work with cranial sacral therapies and things and it's not my specialty. And so like they just need a little bit more right so like, you know, we send out to there or obviously, with someone like yourself, now that I have an awesome resource like yourself that great I can, like help a lot more people by sending people your direction, right or, you know, if someone really does need that surgery like, we've exhausted all the resources, well then, hey, maybe we need to go out and have that surgery and you go to that orthopedics or wherever it might be. But you know, usually typically, you know, our goal when people come into to our office over helping people virtually, it's really just to help be a part of their journey, it's just help them reach their full potential by giving them those foundations to helping their body function heal at a higher level. And, you know, although we're in that virtual realm, you know, we're really helping people out with, you know, gi problems, gastrointestinal, whatever that might be in their life. And then also those toxicity issues because a lot of times the toxicity in the GI Nervous System connection is all there and there are so those things we got to work on. And you know, that can use you get people who really try to be more specific and what we're trying to help people with and not trying to be like the master of all. Yeah, although when you apply these five foundations, man, your body is just overall going to get better. I mean, it could help with anything. I mean, literally, I mean, I've seen people that have just had this foundation, not looking to help With something like Ms and their ms arson disappear, or the person who was coming for me for a GI problem, and then all their headaches and their sleeping problems got better. Right? And it wasn't Yeah, they were even looking to assist when you work with your body instead of against it. Anything can happen.
Dr. Liz
Yeah, absolutely. Yeah, I see the same thing. Sometimes people will come in for something like migraines, or IBS or two specific things. And then the next week, they'll come and say, you know, I'm sleeping amazingly. Like this really helps me sleep, which of course is going to be healing for the body. Right? It's gonna help everything else.
Dr. Chris Murphy
Absolutely. Settle down. Yeah, where I feel people really start to get confused though. And I see this even in our own practices is people have been trained to think in our culture that we need to have all these different doctors like we need to have this day where we go and we see these five different doctors, you know, someone's seeing their, you know, their general practitioner. There's In this guy for their rheumatoid arthritis, they're seeing this kidney doctor seeing this heart doc and all these things. And it's, there's got to be some, some sanity in this because we shouldn't have to see these crisis care doctors or these crisis situation just for a routine for our health, like that's they're there for a crisis. But if we have these things that we're just monitoring, we should be doing these things with holistic practitioners. And I mean, you should really have like maybe your holistic person that you're seeing as maintenance, and then you're seeing maybe a medical doctor or that medical person when you're in that crisis, or if you have seriously a serious medical condition, but I just see it too much. People are wasting their time and their money is visiting all these different doctors thinking they have this like cool health care team around them. But really, you gotta look at the philosophy of what those things are, what their philosophies don't line up with, you know, longevity and health. They're just looking at, you know, medications and surgeries and that aspect, then you really got to Read evaluate what your purpose is. And looking at those docs.
Dr. Liz
Yes, I think the age of specialization has really taken over to where you can't see a even a primary doctor in the US, at least without them referring you to something else to to the specialist, really, whereas I think in the past, they had a better general sense of how to move people towards health. So I don't know, I think some of that is liability driven, as well these days. But I agree. I heard your interview with the Paleo cardiologist on your podcast. And I totally remember his name. Dr. Wilson. That's it. Dr. Wilson. Yeah. And he was saying like, yeah, these are specialties. Really for emergencies. They're not for everyday help. So I think the chiropractor has become center of that and several, the primaries as well. They're not doing that anymore. So it's like, we've really sort of navigated towards someone who will look at all of our health. And sometimes that's acupuncture sometimes as a chiropractor, you know, you often find it in those two fields. The psychologist, you know, we don't, we can't treat medical stuff, right, like we're a licensed psychologist in the US is not allowed to say anything medical, we really do have to say I am not a medical doctor. So we work more on the emotional side. But gnosis obviously treats a lot of medical problems, right from the emotional side, in terms of being able to change the neural pathways calm the nervous system down. That is really our goal there is creating health in the body, not just physical health, but emotional health, which we know affects physical health. Like that's such a direct connection there.
Dr. Chris Murphy
I think a lot of it starts there with the emotional health because, you know, I've seen people that come in and they're obviously distressed emotionally, and they're having all these physical symptoms. And as much as I will help them, I know that until they get that emotional stressor or they can process that better internally, then there's no way we're going to go to help them. And when they start to get those things situated, and resolved, then guess what, everything starts to change in their body, and they start to get better. And all these things start to miraculously get better, but really, it's just like they were creating the interference in their own psychology.
Dr. Liz
Absolutely. Yes. So I did want to change tracks a little bit here. I did notice that you offer weight loss in this episode will probably air around the weight loss month, and I'm going to do so how do you work with that in terms of chiropractic, your weight loss program?
Dr. Chris Murphy
Yeah, so really, this comes back to that health philosophy. So what we do is, you know, everything we do is virtual because you know, there's some people that need to have maybe one on one interactions, but really, it just comes back down to getting To the step by step process, I feel a lot of people they don't need really someone to hold their hand, but they do need the accountability. You know, a lot of times we know salad is good, McDonald's is bad. But we only know how to take the action steps to get the routine and the habit in our lives so that we prepare ourselves and know what to do when we're not going down that fast food drive through. So, really simple. What we really work on focusing on is just really nothing groundbreaking shattering when it comes to to weight loss is it's like giving them the process. So we have a process online where we take them through where we work on their lifestyle, as we're helping them do the the foundational steps so like, eventually, they don't have to be dependent on us, they can actually create the lifestyle that they can maintain this so that it doesn't become a diet, it becomes a lifestyle because diets are not sustainable diets do not work right there is a short term path to a longer term solution. So yes, when we look at this, you know, we'll get the The meal plans for them the the grocery listicle along with those things so they know exactly what to do, they can follow those to a tee if you're that personality type. Or you can just use those foundational principles and use that as a guideline, as you're, you know, going through your day
Dr. Liz
IDs, or these one on one sessions or the group sessions like what are you doing online? Or is it a course they go through?
Dr. Chris Murphy
Yeah, so basically, it's a course to get access to if you don't, they want the accountability aspect of things like we can provide that form we just really figure out what your what your goals are, what your personality type is, if a person is like yeah, I want that that accountability and that check in like great, we can do that. But popular is like Hey, no, I just didn't know what to do. And I just you know, a path to go Okay, great. You know, you can do that as well. Okay. And those are so they're going through those things like everything's online, they have their like the website for they get access to and so every week they're getting their their grocery list and their meal plans and everything they need there. And then along they get access to go whatever speed they want to all the live style webinars that I have on there. And so there's ones on there from you know, toxicity and how to keep those things out of your environment and how to get those things out of your body. As you're going through this process. There's things on digestive health, how to sleep better and have more energy, things that go into the grocery store. One of the favorite webinars on there is it's called shop with the doc and so literally, I walk you through how to how to go to the grocery store, what to look for, you know, different sections of the aisles and things and just help you educate on that. So as you're going, you can start to learn and educate yourself, know how to read those labels, you know, what should really be looking out for so you can navigate the slippery slope of the grocery store, it's a pretty dangerous place to be and if you've ever been in there lately, I mean, I really go into those for now because like, she does like the clickless thing where she just like orders everything and then drives up and then boom, it's in there. So that is really powerful too, because that even helps you avoid the impulse buys where Yeah, syndrome. If you ever been to Costco you're driving, you're walking through like a That looks really good. totally totally. Yeah, like a deal. Why can't they
Dr. Liz
come out and this whole all this feed? I only went in for one thing. Yes,
Dr. Chris Murphy
exactly. And so, you know, so you have a little that aspect of the helping you build the lifestyle as you're going through. It will really as far as eating, you know, there's all kinds of ways to eat. There's, you know, keto, there's paleo, there's the, I mean, there I can emprise 20, other diets and ways to eat but a lot of these they're the same principles. They're just different tweaks, little different changes, you know, so you can have this different program that you're, you know, getting people to go on but at the end of the day, it's just about eating. God made food not man made food and so that really saved our to categorize it and like how we encourage people to eat is probably somewhere between that that paleo to keto, like there's options in there to do keto, if you want to do it that way because that can be great and help it heal the body is some more accelerated weight loss and also get your hormones reactive. it, but it's not necessarily something to do all the time. And so you know, you can have that option and meal plans to do that if you want to tweak it because it's pretty easy to tweak that with any kind of meal planning. Versus, you know, the the 90% of the time you're doing more of that, you know, for lack of a better word again, just like that paleo, where you're eating more green leafy vegetables, you're, you know, you're trying to put good fats in your body. You're trying to stay with the carbs. Yeah, so low or high fat.
Yeah, the quality of the foods is the biggest thing. You know, we can eat these certain ways, but quality is really where it's at. And so that's really what we focus on people.
Dr. Liz
Great. Great. So what have you seen happen with that course? Like, have you seen people transform?
Dr. Chris Murphy
Yeah, you know what, it's amazing when people finally make the choice to apply those things. They make great transformations, like anything, we can have all the resources and the tools in our lives. But until we finally have that big why that makes us really committed to that thing, then I mean, I see people that you know, have all the resources, but they never make any changes because they're not applying it. But when people apply these things, I'd say 95% of the time people make amazing transformations. It was always that 5% or where they have some more serious things going on, that doesn't allow them to lose that way. That's what we can do some more specialized digging and lab testing, things like that for people. But yeah, I mean, it's amazing. I mean, you see people not just lose the weight. That's great. Our goal for us, I mean, it might be your goal to lose the weight, right as a person coming into it. But like, our goal is not to lose the weight. That's just a side effect. Our goal is really to help people transform their lives and help them be their healthiest version of them on the inside. Get them on the inside. Well, that happens. Guess what? They start to lose weight. Oh, yes. They maybe start to sleep better guess what they start to, you know, their back pain and headaches start to go away or you know, whatever that might be? Yeah,
Dr. Liz
yeah. They get off of all kinds of medications. Yeah, stop. Yeah. That they don't need anymore. Exactly. So is there a particular case you could tell us
Dr. Chris Murphy
Yeah, so there was this one guy, his name was Rick. He was, man. He was about 100 pounds overweight. And he tried all kinds of things. I mean, he tried the weightwatchers the there's so many different diets out there. Yeah, I think he tried like Atkins, he tried the ideal progenitors kinds of things and other those things don't help people lose weight because I mean, any diet can help people lose weight. Yeah, but really getting them healthy right. And so we started to apply the foundations him it was him and his wife did it together. And I think that was key for him because he got a big why behind why was doing it. And he had that accountability, not just from us, but from someone that was close to him that they could go through the trenches together, so to speak, because here's the thing, if you're a spouse, you have someone that you're living with, if they're not on the same boat with you, with your lifestyle makes it really difficult. You know, if you're gonna eat something different and they're not being supportive, like that can be a big deal for people and yeah, Yeah on track and and they started this apply the principles they start applying like all the principles not just not just eating well and exercising but really I don't even think honestly I don't think he did that exercise. He just like losing weight is like 80% your nutrition in your body feeling on the inside it is. And so you know he was there done that they're doing chiropractic. There's a little spy foundations a lot better in their lives and he ended up within about six months. I think he lost about 90 pounds. I lost about 50 pounds and wow, they were just you know, they got their life back. It wasn't just they lost weight. Like they were doing more they're staying more active. Yes. He wasn't grumpy. No, because when he first came and he was a grumpy, like, no question about not feeling good. Up here and, you know, obviously his wife did love the weight as much losing her weight as much as she loved the fact that he wasn't grumpy. Yeah, gotta be around live around, right? Yeah, yeah, it says watching people make mistakes. affirmations is the great thing.
Dr. Liz
Wow. Yeah, that's pretty amazing. That's a lot. It sounds like you're really addressing it from a lifestyle perspective so that people keep the weight off too.
Dr. Chris Murphy
Yeah, absolutely. That's where it all starts because again, just following a plan to eat a certain way, but not understanding why you're doing it. Yeah, and and what's behind those things, then it just becomes just a process you're going through eventually, you won't ever learn anything. And when that resource goes away, or or whatever that might that thing is, then you just revert back to your old habits. Yeah. And so yeah,
Dr. Liz
I think that's true unless you do have the big why. I say within the last a year or so, I really started looking more into the keto paleo, low carb, high fat type of lifestyle and this transformations and other research behind it. You know, when you really look at weight loss studies, they're often to people can't keep up weight off long term. But if you start looking in that world, you'll get people who have really, they say, I feel better, I feel incredible. And I've kept that I've done this lifestyle for 10 years, right or 12 years. There's a video of a doctor who medical doctor who present all around the world about this. And he said, I, I've been doing this for 12 years. Like, that's pretty long term, right? That's like a two years, you know, is really consider long term. But it occurred to me is like, why aren't these studies being published? You know, why aren't these people being looked at in terms of long term weight loss and the big way and the health benefits and all of that it was really quite interesting to me and I don't have the answer to that question.
Dr. Chris Murphy
Yeah, you know, it's that is a great question. I think, really, I think we just get bombarded so much on a day to day basis on this outside in approach and our culture, that it's hard for people to want Be able to actually do what they need to do. And they're constantly getting drug back into that culture. And hey, just do what makes you feel good, right? Like all that food, that psychology behind it. And I think a lot of times it comes down to that underlying psychology, and which I think is so important where you come in, because you can help them break past that, right? Why am I really doing those things?
Dr. Liz
Yeah, exactly. Yeah. And I think it is. A lot of that is the internal self worth, and are you worth it and really getting rid of those negative self concepts that you have? As well as being very aware of how much we are bombarded by advertising and quote unquote, big food, right? Instead of Big Pharma like big food, he's trying to control all of your food choices and fill you full of junk like really trying to convince you this is healthy for you when it's not. It's not
Dr. Chris Murphy
exactly there's so many tricks and labeling schemes out there the ad system Yeah,
Dr. Liz
they spend billions on it like trying to get you to buy the product. Act which isn't necessarily healthy. Yeah, absolutely. Yeah. So that's really helpful to know I think people are very, will be very interested in that course that you offer. Can you tell people how to find you and how to find the course?
Dr. Chris Murphy
Yeah, absolutely. So I mean, there's a few different things people can do. I mean, they can want to start reading my book and I that gets people a lot of really valuable information there they can start that journey on it's called the five foundations of remarkably healthy people. You can find it on Amazon and it's a great way to find that but you know, they can just go to the Dr. Chris so the and then Dr. Chris, calm so you can go on their way to resources, the podcast is on there as well. And you can actually set up a consultation to actually see if it's a good fit for it because I just don't want someone to just, you know, start our program if it's not really the right fit for them. So, you know, we sit down and see there's underlying issues too, because if there are underlying health problems that you have, you go out and start doing, you know, some kind of weight loss program. But you've got underlying issues that are going to keep you from doing that, and getting the results, then you're going to get really frustrated. And then you're going to say, Well, hey, this program didn't work for me, or I'm just going to give up. I've tried everything now. And it was really just an underlying problem. So that's really where it has to start. We got to figure out who you really were. Whereas the issue, are there other problems? And then Okay, is this the next step? Or is there stuff we need to take before that so your body can finally start to lose the weight? So yeah, they can get on that and set up consultations with us and myself and go from there.
Dr. Liz
Fantastic. Well, thank you so much for being on the podcast today.
Dr. Chris Murphy
Absolutely. Thanks for having us on.
Dr. Liz
I hope you truly enjoyed today's episode. Remember that you can get free hypnosis downloads over at my website, Dr. Liz hypnosis.com. I work all over the world doing hypnosis. So if you're interested in working with me, please schedule a free consultation over at my website, and we'll see what your goals are and if I can be of service to you and helping you reach them. Finally, if you liked today's episode, please subscribe to the podcast or tell a friend that way more and more people learn about the power of hypnosis. Alright everyone, have a wonderful week. Peace
Transcribed by https://otter.ai