How to Get Help for Love Addiction!
Are your friends totally burned out hearing about your tumoultous relationships? Are your relationships up and down, up and down with drama, drama, drama? Or do you have multiple affairs that are threatening your primary marriage or relationship? You may be a Love Addict.
First thing you need to do is figure that out. For some people, this includes Sex Addiction. For some people, not. There are separate 12 step groups that meet for Sex and Love Addiction (SLAA) and  Sex Addiction (SAA). A Love Addict can generally attend either one based on where he or she feels most comfortable.
Here's the questionnaire for Sex Addiction.
And the one for Love Addiction. Or you can see my article about Three Signs of Love Addiction.
12-Step Groups
You may be thinking, "Twelve step groups, what???!!!"
Twelve-Step Groups are the fastest, least expensive way to get yourself some help. They're FREE. Truly free. You can give a dollar or two at a meeting but no one in any of the rooms would bat an eye if you don't. The recommendation for any 12 step group is that you attend 6 meetings to see if it's a good fit for you.
A common concern I hear is what if you walk in and know someone there. . .  Let's take a pause here . . . that means you're both there. That person has just as much to protect as you do. The vast majority of people where that happens have a very clear pact to not betray the other person's anonymity. You're both there to get help, to recover, to stop the pain going on in your life.
What about Therapy?
Yes, therapy is effective and helpful. In the case of sex and/or love addiction, it is even more effective when someone is involved in attending a 12-step support group regularly.
If you do want to see a therapist, make sure they're familiar with sex and love addiction. There are many addiction therapists who treat alcohol and drug addiction who have no clue about sex and love addiction. They're considered process addictions and are very different than other types of addiction.
Many sex and love addicts have qualities of Borderline Personality Disorder although not all of them (just a high enough percentage not to ignore). If you find a therapist familiar with Dialetical Behavior Therapy, even better.
Dr. Liz, Can you Help Me?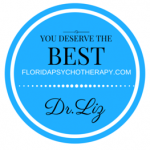 Yes. I'm very informed about sex and love addiction, having had special training in it, as well as being DBT informed. Although I specialize in hypnosis in Broward county and the Fort Lauderdale area, I also do traditional talk therapy. To see if we're a good fit to work together, schedule your free consultation at 954-309-9071.
Yours in health,
Dr. Liz