Your Order is complete.
I'm so glad you made the choice for freedom and I know you or your loved one is too!
Your next step is to schedule the appointment with me. You can do that three ways. The fastest way is generally through text, but please do what you're comfortable with.
(1)  Email me at drliz@drlizhypnosis.com. Let me know your general availability ( mornings/evenings, etc.) and we'll exchange a couple of emails until you're all set to come in!
(2) Call me at 954-309-9071 and leave a VM. I'll return your call and set up the appointment.
(3) Text me at 954-309-9071 (it's a work cell).
Once you're scheduled, I'll send you directions to the office and a link to complete paperwork online. It takes 5-10 minutes and you'll be all set for your appointment!
Here are some FAQs about Hypnosis:
Will I bark like a dog?
Nope. People cannot be made to do things under hypnosis that they don't want to do. Hypnosis may be thought of as encouraging the clients' creative imaginations to make changes in their behaviors, attitudes, emotions, & feelings that are in accordance with their values.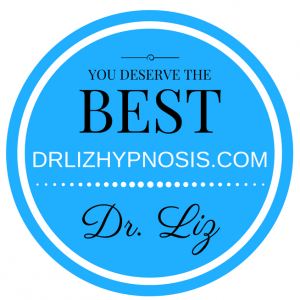 What is hypnosis like?
Most people just feel very relaxed as they sit with their eyes closed. You will hear everything that I say to you and remember it as well. It's just like a deeply relaxed state.
Will I be able to drive afterwards?
Yes, you'll feel rested and refreshed.
Yours in health,
Dr. Liz