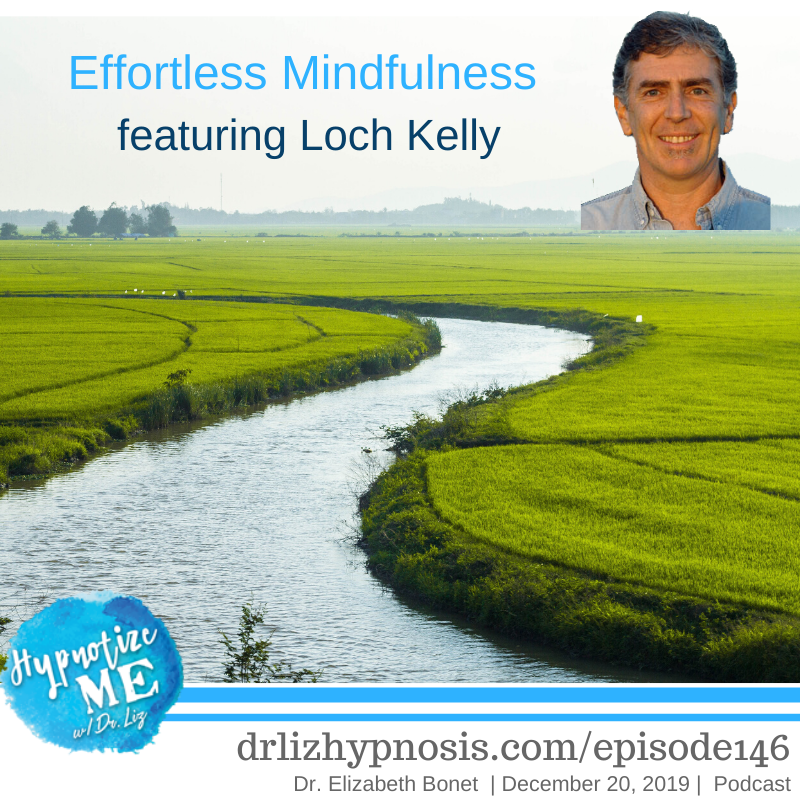 Wouldn't we all like to feel like meditation and mindfulness is effortless? Find out how! Dr. Elizabeth Bonet interviews Loch Kelly about his new book "The Way of Effortless Mindfulness." We find out:
East vs. West perspectives of healing with subtle energies
How to enter Spacious Flow
How to move from the Head to the Heart mind
How to recognize the parts of yourself holding you back and What to do with them
Loch Kelly, M.Div., LCSW, is an author, meditation teacher, psychotherapist, and founder of the 501c3 non-profit, Open-Hearted Awareness Institute. Loch teaches in a non-sectarian human being lineage using an adult education style based in the earliest non-dual wisdom traditions, modern science and psychotherapy. Loch is grateful to all his teachers and shares from his own experience that has given him great joy, freedom and love. Loch's work is to help people access awakening as the next natural stage of human development. He offers in-person retreats, workshops, and online video and audio courses. Loch currently lives in New York City with his wife Paige and their cat Duffy.
You can learn more about him at his website https://lochkelly.org
——————–
Text the word Hypnotize to 444999 to join the newsletter and get a free hypnosis file!
See more about Dr. Liz and get Free hypnosis files at http://bit.ly/drlizhypnosis
Search episodes at the Podcast Page http://bit.ly/HM-podcast
Help yourself with Hypnosis Downloads by Dr. Liz! http://bit.ly/HypnosisMP3Downloads
Twitter @DrLizBonet#hypnotizemepodcast | YouTube  |  FB  |  LinkedIn
———
A problem shared is a problem halved.In person and Online hypnosis for healing and transformation. Schedule your free consultation at https://www.drlizhypnosis.com.
Listened to in over 140 countries, Hypnotize Me is the podcast about hypnosis, transformation, and healing. Certified hypnotherapist and Licensed Mental Health Counselor, Dr. Elizabeth Bonet, discusses the research behind hypnosis, interviews professionals doing transformational work, and talks to individuals who have had hypnosis. Free hypnoses are also given from time to time. If you're interested in learning more about the magic of hypnosis, psychotherapy and mindfulness, this is the perfect place to feed your fascination!
Thank you for tuning in! Please subscribe to auto-download new episodes to your listening device.
After you listen to a few episodes, please consider leaving an honest rating and review of the podcast.
Click on this link: https://itunes.apple.com/us/podcast/hypnotize-me-dr.-elizabeth/id1181272913
Select "View in itunes"
Choose "Open in itunes"
Choose "Ratings and reviews"
Click to rate the number of stars
Click "Write a review"
Hear my voice in your head saying, "Thank you so much!"
Transcript
Dr. Liz
Hi everyone Hypnotize Me podcast. Before we jump in, please note that the podcast is not mental health treatment nor should it replace mental health treatment. If you need psychotherapy or hypnotherapy, please seek treatment from a trained professional. I do hypnosis all over the please feel free to contact me through my website.
Hi everyone, Dr. Liz here. I wouldn't be clear that this is a groundbreaking book that Loch Kelly has published she's the person I'm interviewing today. And we had spoken a little bit after the interview actually that some of these practices have been kept from people becoming It's a really part of an advanced training when you're an advanced meditator and that meditation teachers teach. And there is a sense of having to pay your dues by get to a certain level before will teach you this before will teach you that and more of the traditional meditation traditions say traditional twice in the same sentence as pretty hard. But that's the truth, really. So I found it quite a fascinating book and I hope you enjoy the interview as much as I do. Before we jump in, I want to quickly let people know that I am going to run an online group in 2020. And we will be using some of these practices. So it's going to focus on hypnosis and more mindful eating and weight loss if that's someone's goal, or just controlling your eating if that's your goal. mindfulness practices are a big piece of tuning into the body. So I'm so happy to get some of those tips and techniques through this book and to talk to lock about how he wrote this book and why he wrote this book and all the good stuff in it. Alright, let's jump in.
Hi, black. Welcome to the hypnotize me podcast.
Loch Kelly
Hi, Elizabeth. Nice to be here. Looking forward to it.
Dr. Liz
Yes, me too. I read your new book. And I found it really lovely, just full of wisdom and practical things that I could use as well. And I immediately found myself thinking about how I can use this to help some of my clients and to help people in general. So I want to just tell you that right off the bat, I really love the book.
Loch Kelly
Great. Thank you so much. Yeah, the way of effortless mindfulness. Thank you.
Dr. Liz
Yes, with stress me when I first came across your bio, someone else I interviewed on the podcast, Jeff Warren, who's also a meditation teacher sent me your info and said, Hey, Elizabeth, you've really got to interview this person. He's, he's fantastic. I said, Okay, great. I'll go take a look at him. And you have a degree out of union. Theological Seminary, correct? That's right.
Loch Kelly
Yes. Okay.
Dr. Liz
Is it a master's in divinity or is that?
Loch Kelly
Yes. Union Theological has the had the first program in the United States in what they called psychiatry and spirituality. Oh, it was a program that was started to try to combine spirituality and contemplative sciences.
Dr. Liz
Wonderful, wonderful. Both my parents were ministers. Also, my dad was a Methodist minister growing up after he passed away my mother became a minister like in ordained minister as well. And then she spent time in Nepal. And I know you've spent time in Nepal as well. I was like, wow, there's some, some crossing here that really struck me. That's great. So you studied that union. And then you went to Nepal after that, when
Loch Kelly
I ended up doing a joint degree with Union Theological and Columbia University School of Social Work. But the first year at Union I went on a fellowship to Sri Lanka, India and Nepal as part of that program. And I studied cross cultural perspectives on healing. I ended up doing a lot of meditating both in monasteries and studying in the university. And also, you know, studying with some healers and the local villages.
Dr. Liz
Oh, what did you find?
Loch Kelly
Well, I found that particularly, the journey led me from studying the tradition there in Sri Lanka Buddhism is the taro bata, or Vipassana tradition, which people call insight meditation. So I did five day retreats, 10 day retreats and or 21 day retreat. And I really enjoyed the benefits of that meditation. And then interestingly, I went up north to Dharamsala where the Dalai Lama was, and was fortunate enough to have a small group audience with him, when he was just about to teach on this particular tradition of direct awakening, called junction. He was about to go to France and teach on this. So he was talking to us about that. And I was so interested, I put my hand up and said, Where do I go study that and he said, there's a guy in the Paul, urban rapper Shay, who teaches this, why don't you go study with him? And so I changed all my plans. And off I went to study with him for a short period of time.
Dr. Liz
Wonderful, absolutely wonderful. And did you find that the perspective on healing is very different than the western one?
Loch Kelly
Yes, there's a particular, you know, way that you would almost intuitively sense what's going on and access more subtle dimensions of consciousness, both through almost shamanic culture and then meditative and you could say almost some hypnotic induction to help people access their own natural healing ability, which is the real main difference. Hmm
Dr. Liz
was it integrated with like, A psychological perspective meaning like the subtle energies in the body are indicative of psychological things going on or is it? It more more physical base than that?
Loch Kelly
It's more psycho spiritual energetic. They didn't use as much of the psychological language but I could, you know, match it up with psychological conditions. Certainly obstacles to healing ways that people were closed down or resisting or, you know, traumatized in a certain way.
Dr. Liz
Oh, okay. Okay. Fascinating. I love that stuff. It's funny because I'm going to tell the listeners right before this interview, I didn't even know you had studied that or that was really your topic when you went abroad. And I had just said to lock that I'm working on some digestive problems that I'm having some gi problems. With more like meditative healing and diet. So it was wonderful that I'm lined up. I said that even before I knew that you really studied that. Yeah, really interesting. So then you also learned what you call deliberate mindfulness meditation practices when you were there. And I want to jump more into the book now, if that's okay. Sure. Okay, because I found it really fascinating to make that distinction. Yeah. And you make the distinction between deliberate mindfulness versus effortless mindfulness. That's right. So can you help the listeners understand that distinction?
Loch Kelly
Yes. So what I'm calling deliberate mindfulness is what most people know as mindfulness, which is the practices primarily from insight meditation and Zen which primarily starts with concentration practices focusing on your breath or an object. And then allowing your mind to just kind of rest. And when your mind wanders, returning to your breath, and then doing what's called the four foundations of mindfulness, which is stepping back into a mindful witness, and then being aware of thoughts, feelings and sensations, as arising and passing. So rather than being identified with, I don't like the what that person said to me, You can feel that but then you step into a mindful witness and you realize, Oh, that's a thought, or that's a feeling, oh, that's a sensation. I don't have to act from that. I can feel that and then there's another level of insight that I'm not my thoughts. I'm not my emotion. I don't have to be identified. Or attached to it, I can feel it, but then I could witness it as well. So that's kind of the deliberate mindfulness method. And it has great effect and results, particularly for stress management. And then the second, which is what I've brought forward in the way of effortless mindfulness is what's called effortless mindfulness, which, in North Indian and Tibetan tradition is considered the next natural stage. So you would do deliberate mindfulness, and then you would do effortless mindfulness.
Dr. Liz
So, so, before we move on the effort, the deliberate mindfulness is, is really what people are saying, like, you need to meditate, you need to meditate, you know, 10 minutes a day or five minutes or whatever, like you're constantly hearing this encouragement to meditate. So it's more of a deliberate action that you're taking.
Loch Kelly
Yes, and it's it's kind of using your You know, everyday consciousness, when most people meditate, they usually do the first practice of the two practices, which is the either concentration or watching your breath, and noticing your mind wanders and coming back. So that's pretty much, you're deliberately just using attention to focus on your breath. And then your mind will wander, and then you'll bring it back to the simple task. So rather than thinking about something or you're deliberately intentionally focusing in a narrow way on a small task, which is this one, object, one pointed attention, so you keep deliberately coming back to that, and that allows the other levels of the chattering mind to kind of go into the background and be less taking you away or
Dr. Liz
Yes, yeah. Yeah. And there has been a lot of research. More recently, I would say in the last decade about the benefits of that of your meditation practice in terms of reducing stress, anxiety, calming the nervous system, you know, all kinds of benefits that happened very quickly. When you commit to a certain time of meditating, even if it's five or 10 minutes, literally,
Loch Kelly
that's right. Yeah, they say seven minutes is now the research has shown if you can do seven minutes, you can get the result. And if you do it consistently, it really is like, kind of one of the pillars of health. Yes, yeah. Sleep eating. Well, exercise and meditation is Yeah, the fourth fourth leg of the chair, you know,
Dr. Liz
which is wonderful, right? Oftentimes, you know, the three legged chair didn't always work. So well. That's right. So then you take this a step further. Yeah. And there's You call it the five foundations of effortless mindfulness?
Loch Kelly
Yes. So let me say a little about what effortless mindfulness. So traditionally meditation traditions from yoga, to Taoism to Buddhism is about awakening. It isn't about stopping at stress management. So this first practice of calming and focusing deliberate mindfulness is traditionally practiced as the preliminary practice, not the final practice. So you can come and then focus, and then you you're not as stressed and you're not as in your chattering mind. So then you can shift into the next natural dimension of consciousness, which isn't just a calmer ego, but is a sense of another dimension of knowing another dimension of identity. That is able to regard that ego or that managing part or the judge as a part of you, not just thoughts, but the feeling of this more spacious and pervasive, interconnected, open hearted presence, which is the essential nature of who we are, that when you can shift into this and then be aware from here, then there's a whole nother level of going to the root of suffering and it gives you this capacity of love and acceptance that's naturally already here.
Dr. Liz
Mm hmm. It sounds beautiful. I would say I I have direct experience of that I have for a couple of years without really knowing what it was called. But it reminds me to have this sense of fundamental well being that opens up In somebody, that's it. Yeah. And there was there was a, an author I interviewed Jeffrey Martin and I could give his Episode 117 who read a little book about fundamental well being and how that feels to people and what happens the changes that happen in said, you know, there's different methods, he went around the world and studied all kinds of people. But it occurred to me like, Oh, this is a wonderful way to open into that feeling is through effortless mindfulness is through these exercises that you give in the book.
Loch Kelly
Yeah, and fundamental well being is kind of a halfway station is a feeling of relief or release when you step out of the small self and into this gap of relief and kind of awareness based knowing, but then it's really being over Where from there back to an embodied almost flow consciousness so you're not only fundamental well being isn't a feeling it's actually a quality of who you are. Yes. And this sense that as you said, you've experienced it, that most people I think, who are listening, have experienced this what I call open hearted awareness. When they are doing something they love during the day. In their free time, most people choose to find a way to go out of the small sense of self into interconnected flow more through movement and sitting by walking and walking in nature, playing sports, gardening, dancing, playing music, listening to music, doing art, you shift into the first functional awakening consciousness that isn't from the calm, small self which delivered mindfulness comes the small self. And then when you shift into this flow consciousness you're starting to access awake consciousness.
Dr. Liz
Yes, I see the self with a capital S. Yes, I like your I Simon's refer to that as your highest best self. Yes. And often people will get a sense of that versus like the small self is that one who will you said sometimes that is still the calm? Yes, peaceful one, but it's not the self that necessarily feels interconnected or alive with energy and vibration and, you know, a sense of a greater goodness, even within the self. Yo, certainly with other people as well.
Loch Kelly
Yeah, I'm good. The thing is, it's it's naturally so the premise of this effortless mindfulness is that this awakened consciousness, which has been revered, in every culture throughout history is already inherent within each of us already installed operating system. And the feeling of it is not just like the smallest self gets more calm or gets wise or grows up to be this self, self with a capital S, which is why in Buddhism, they emphasize this middle stage of no self. In other words, that the small self you have is just a thought based pattern, okay, of self referencing that we can function from. But actually, what we're going to do in this is move from an ego function. That's become an ego identity, and then let the ego identity semi retire. So let it relax the identity and keep the function so we're not killing the ego, we're not fighting the ego. We're returning it to its natural function, and then upgrading to this feeling of interconnected spacious flow that is awareness based rather than thought based. It's almost like dropping from head to heart mind. So there's this kind of
Dr. Liz
wisdom lovely description. Yeah, the head to the heart, mind. Yeah. Yes. And I was reading along and thinking, you know, the small self is also that when that gets caught up in anxiety or addiction and those types of things, worry depression, I would say is this sometimes your small self? And I'm reading along thinking, Well, how do you how do you not jump back into the small self. Because I know a lot of people struggle with that, including myself sometimes like, Oh, geez, you know, I'll catch myself. Yeah, I'm in my small self, right, something will happen. And it's like, okay, I just need to pause here and center. And, you know, I do my own stuff, but it's like, right, as soon as I thought that question, you answered it in the book, right? You said, How do you resist returning to the small self? What would you say is the best way to resist that would be regular, deliberate and effortless mindfulness practices, or is it more of a larger sense of continually moving into the larger self?
Loch Kelly
Yeah. So the premise about deliberate mindfulness is that it's a very good thing, but it's meant to be preliminary. So as much Any way that you find a calm and focus for as long as you need, but usually seven minutes is enough. And then
immediately shifting into this
awareness based, no self self, which you get a feeling for and that's what my book will help guide you and kind of give you markers for. Just to go back to the story of me going from the Dalai Lama recommending I go see this fellow Toko Ergon. Remember Shay so I went off to Nepal, climbed into the Himalayas and then to the small house of his with just a few students there. And he gave about a five to 15 minute talk. And then he gave this pointer to shift awareness and I shifted my awareness into the corner of the room and then have it had it looked back through me. And then I felt within those three minutes, the same way I felt at the end of a 10 day retreat. So this is the thing is that the premise here is that once you learn how to shift your awareness, there's a little effort of the awareness moving. But you then discover immediately, this effortless awareness that always already been aware. And then you start to regard what was yourself as a part of you. So this is this is the transition to the two, two part answer to what you're saying is learn the difference between the small self and movement through the no self to this awake self. And then You know, recognize it, then realize it, then the Tibetan word for meditation is translated as familiarize. So familiarize yourself with yourself. And then be aware from it back to include everything, which now when a part of you arises like a judge or a manager, you can get caught, and then you can step out and realize, Oh, that's not bad. That's just part of me. That's just an old habit. It's a part of me that's trying to help. Thank you for helping and you start to be able to mindful the effortlessly mindful with this new capacity, tour, managing parts, protective parts, and then kind of hurt child parts and traumatized parts can start to be shield from there,
Dr. Liz
huh? Okay, so that leads me into do you spend a chapter to? Not quite sure how much but definitely in the book, I was surprised to see that you address this. In terms of working with people's part. Yeah. So you're saying that when you begin to develop this awareness, this larger awareness of yourself, it's just a part the self that you identified before, then you also begin to notice that saying these other different parts of the self, and you studied with Richard short too, or collaborated and study with him, but you collaborated with Richard Swartz, who's the creator of the internal family systems, which therapists often referred to as parts work in the field, and I would say it created a huge shift in the field. This Psychology, in terms of therapists are usually big fans of parts work that I've talked to I am too. And it just sort of intuitively makes sense. Yes. You know, even when I was in therapy 20 years ago in my 20s, I remember I had a union therapist, and she was talking about the inner critic. Yeah. And she sent me on this mission to go find a representation of the inner critic. And I found this little carved figure. That was the body was just really like a cylinder, and then with just a head on top, okay, so I brought it back and she's like, it's perfect. It's just the head. Right? There's no centering here in the heart. There's none of that the inner critic was simply intellectual.
Loch Kelly
Hmm.
Dr. Liz
But we didn't go into other parts. As I've read more about this and evolved as a therapist myself. You think that other people Heart, our soul definitely to acknowledge and to acknowledge that they're all trying to help us in some way. Hmm, so many people get into putting themselves down, right about a certain part, like, why does that part come out the part that gets angry or the part that, you know, acts out or the part that, you know, yells at my kids are seen as something like that. And it's, it's a way to reframe it and I think your your book thing, get into it in depth, but it definitely gave an introduction into how to work with some of your parts, and that every part is trying to help you in some way. That's right. It may not be like that. Like, oh, this part gets me a lot of trouble. But on the other side of that it's trying to protect something that's going on. Yeah,
Loch Kelly
yeah. So So yeah, I mean, when you look, you look through meditation, you're looking at a little finer lens. You're kind of deconstructing one level into thoughts, feelings, sensations. But then when you get off the cushion and you walk around during the day, I found it didn't really help for me to say, Oh, that's just a thought, Oh, that's just a feeling. Oh, that's just a story. Oh, that's just a belief that literally what it feels like is this little thought, feeling sensation. And worldview from a certain age, just sneaks up the back of my head and sits in the seat of consciousness looks out of my eyes, takes over my body and says, ba ba, ba, ba ba. You know, I think and then I'm like, and then mindful move is to step back. So that this is that is the huge mindful move is being identified with a part and not just saying, Oh, well, I'm I'm sad. I'm angry. Hold There's a part of me that's angry. Oh, how do I know that? Or where do I know that from? Oh, now I see Oh, that is a part of me because it's not all to me. In fact, there's a part of me that's angry. And it's protecting a part of me that scared. Oh, no, there's two parts here. Oh, the scared part. Somebody yelled at me and I feel scared. And now this protector parts comes up and it's angry. And it wants to say something to the other person. And yet I'm aware of both those parts and I can decide to say something or not say something. No, it Yes. Yeah. So you know, even Freud was a part space system. Ego is super ego. Yes. However, the like billiard balls that it would take over, and then the ego was supposed to knock the super ego and it out of the way. And then you are supposed to be this ego which is kind of like a thought based person which actually is just a part in this other system where there's a bigger self. That's just upgrading and adding one dimension of consciousness, which, you know, young kind of expanded a little bit but even young, couldn't quite understand. When he wrote a introduction to remenham Harsha, his book, he said, Oh, I don't think the western mind will ever understand what he's trying to say. So he made himself an architect. So it still was a party. So this is really bringing east and west together. But it's kind of already what we know. We just haven't known how to language it or know that we know it. You know, we've, we've missed it like a gap because it's an initially invisible and spacious and non word based and, you know, kind of like this flow consciousness that we experience. When we walk in nature, but we're aware from it, we're not feeling back to be aware, oh, now that I'm walking in nature, and I've dropped out of my head, and I'm in my body in my heart, and I'm interconnected. Let me just feel back into who's aware now Who am I? Rather than? How do I feel? So once we take it as a shift of identity, and a shift of mind, we can start to turn the awareness around and in some ways, that's the magic move of effortless mindfulness is rather than just pulling the camera back, to observe the contents of consciousness, we kind of feel what's behind the camera. So we feel the context. Who is everything arising to what is it's not so much about what arising thoughts, emotions, whether they're even sadness or fear, but who are what are they arising to and then as soon as you open to this larger capacity and felt sense, there's an embracing quality from this loving dimension that
that immediately available. So it's this, it sounds sounds new and unique and almost complex but it literally having taught both deliberate mindfulness and effortless mindfulness, it takes the same amount of time to learn this advanced technique and capacity once you become self aware, aware that you're aware from this flow consciousness, this open hearted awareness it's just Magical. It's just it gives you this relief and this joy and this well being and freedom that you didn't know was possible that you thought had to do with some circumstances outside of yourself.
Dr. Liz
Yeah, I totally agree.
Loch Kelly
Yes. And so it's like you've brought advanced practices down to an understandable and accessible level through this God stuff. That's my whole, you know, so many of the Western teachers have brought the insight meditation and kind of made it more contemporary. And so I've tried to do the same thing with this next level, advanced practices, which have always been considered simpler, but because the paradoxical or don't start with, you know, just the attentional abilities that we all know they start with a kind of The move to look back at who's looking. And we've never done that there's no no tradition and even in psychology to do that, that it's like what, wait a minute, where are we looking? who's looking what's looking? And, and so it's like intellectual it's like, no, it's not intellectual at all. It's very experiential, but it's just new
Dr. Liz
experience. So yes, right. Yeah, it is funny when you're reading along. That's like, wait a minute. Pause. Like, hold on, let me organize it. Yes, thanks. experiential. Absolutely. When you begin to do the practices, your understanding skyrockets. Yeah, I think that's a good tip to for the listeners is do the practices, right can even start with the practices and then go back and read some of the background and the book or however you want to do it, but I think that would be a wonderful way to experience That's right. It's still one of the exercises, you
Loch Kelly
know, just to say for people, you know, the book, the way of effortless mindfulness has practices in it, but the suggestions are that you could go look at some of my YouTube's, or I have me reading the practices. But the other way that people have found is if you read the practices in your own voice into your phone, and then listen back to them and let yourself guide yourself. It's just easier to do them when you're listening rather than reading.
Dr. Liz
Oh, yeah, absolutely. Yes. That's a lovely reminder. And we are going to air one of those on the podcast. So but that's obviously my voice and not yours. So tip. You know if you have a smartphone around or some kind of recording device, to record it and listen to it,
Loch Kelly
but that's also good. That you're saying because it's going to be in your voice, which is fine. So there's something about this advanced practice that's advanced and contemporary in that the premises that awakening is the next natural stage of human development, that it's lovable, yeah, teachable, it's accessible to everyone who's willing to go through a kind of developmental stage. And it's a non guru way of doing it. So it doesn't have to be me reading it. You know, people from around the world have emailed me that just by reading it in their own voice or, you know, they can access this by doing this. Learning how to unhook awareness from thought and have it shift into their own awareness and be aware from there. It allows you to access your own potential. Yeah,
Dr. Liz
yes. There is something about listening to your own voice. Like for years, I've recommended that when people set goals or dreams or intentions, they record them in their own voice and listen to them daily or however much they need to. Because it's so effective. It's like you, you're talking to yourself, right? your highest best self is talking to yourself, really. So it is a wonderful suggestion. So we are coming to the end of our time here. Can you please let people know how to find the book and how to find you on YouTube and some of the free resources you out
Loch Kelly
as well? Yeah, probably the best way is just to go to my website because everything is there. So it's www dot Loc kelly.org. So ELO ch ke, ll y.org. And you'll see a link to my book, which there's some free videos along with that and then Events upcoming. I'm going to be giving a retreat in Costa Rica coming up. So things like thunder fall, when is that coming up at the end of February?
Dr. Liz
Okay, so February 2020 and helps them find to the future if you're listening to this. That's right. So Wonderful. Well thank you so much for being on the podcast.
I hope you truly enjoyed today's episode. Remember that you can get free hypnosis downloads over at my website. I work all over the world doing hypnosis. So if you're interested in working with me, please schedule a free consultation over at my website, and we'll see what your goals are and if I can be of service to you and helping you reach them. Finally, if you'd like to Episode, please subscribe to the podcast or tell a friend. That way more and more people learn about the power of hypnosis.
Transcribed by https://otter.ai