Dr. Liz interviews Eric Glass who lost over 100 pounds with Gastric Sleeve Bariatric Surgery. Tune in to hear his journey before weight loss and how he decided to have gastric sleeve surgery. Eric was originally a member of the clean plate club and his group of friends were late night foodies. He got up to 420 lbs at one point (at 6′ 3″). He was tired of cycling his weight, losing 50 lbs (even 100 at one point) and then gaining it back. And never feeling full.
He knew if he was going to put his life at risk by doing surgery, that he needed to everything he could to make the surgery successful.
What we'll Learn
How he used hypnosis after his surgery to quicken recovery and healing.
How he reduced complications.
How he changed emotional eating patterns into healthier eating choices.
What the doctors said about his recovery.
Hypnosis Results for him after Gastric Sleeve Surgery
He didn't need to use any pain medication.
He was back at work within 2 weeks.
It helped him sleep after surgery.
It helped him change emotional eating patterns.
Resources Mentioned
See before and after pictures of Eric at http://bit.ly/2kqQZCj
Eric can be reached at eric@watchuwant.com or check him out on YouTube! He buys and sells timepieces.
CHANGE YOUR EATING PATTERNS TO MAKE HEALTHIER CHOICES WITH A HYPNOSIS FOR HEALTHY & MINDFUL EATING

Changing eating patterns doesn't have to be a struggle. This hypnosis helps you develop the new brain pathways to make choosing healthy food easy and something you naturally want to do. It also includes suggestions for mindful eating.

Purchase on the Downloads page.

LISTEN AND BEGIN TO ENJOY EXERCISING, LOOKING FORWARD TO IT, PLANNING FOR IT, AND EVEN DARE I SAY . . . CRAVE IT!

Do you hate to exercise and have to drag yourself to the gym (or don't make it there at all?) This is the hypnosis file for you! What a wonderful feeling it will be to enjoy exercising! That can all be accomplished with regular listening to "Enjoy Exercising" by Dr. Liz.

Purchase on the Downloads page.
Thank You for Listening
I know that our lives are busy, and I'm grateful that you took the time to listen to this week's podcast.
If you enjoyed today's episode, please share it with colleagues and friends using the social media buttons on this page.
Please consider leaving an honest rating and review for the podcast on iTunes as this helps the podcast reach more people to help in their journey towards transformation and healing.
Finally, feel free to join over 2,500 members who have signed up for the Conversations for Effective Living Newsletter.
You'll learn valuable tips for your life and get the podcast episodes delivered right to your inbox.
You'll also get FREE access to several Hypnosis Files you can download, share with friends, and use at your leisure.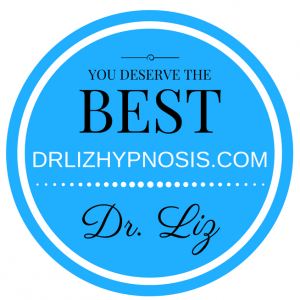 ---
I specialize in hypnosis for anxiety and chronic conditions in Broward county and the Fort Lauderdale area. If you would like the magic of custom hypnosis, email me at drliz@drlizhypnosis.com.
Yours in health,
Dr. Liz