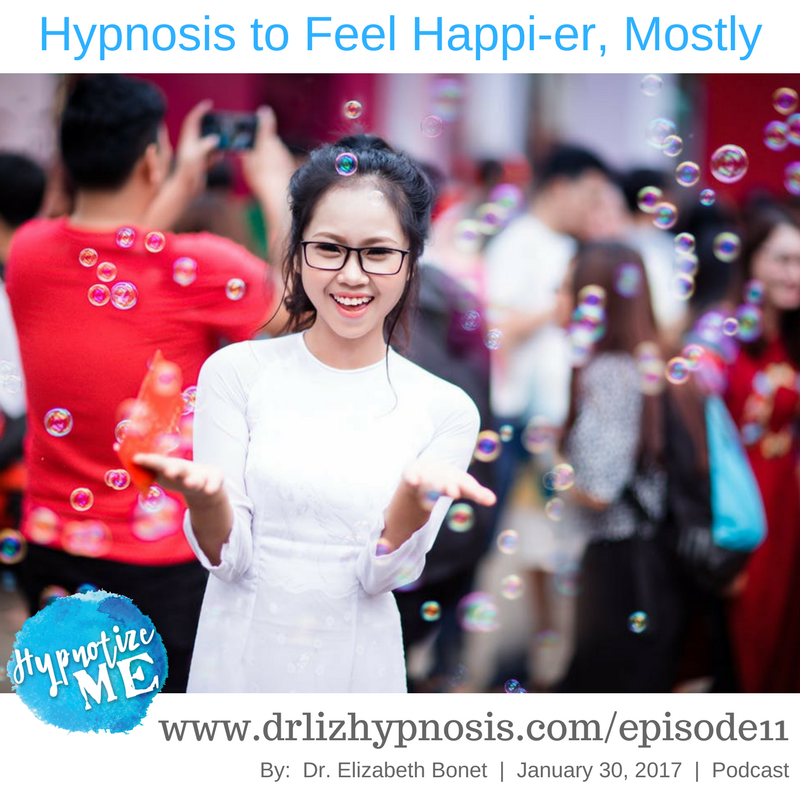 Dr. Liz shares about why finding meaning in your life is important and then talks about studies about happiness. She gives various ways to increase happiness and gives a free hypnosis to increase your own happiness.
Resources Mentioned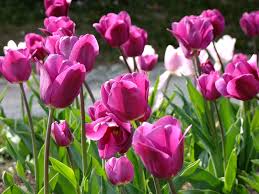 The researcher who studies why NOT to get obsessed with happiness is June Gruber out of Yale and was cited in the book "Good News about what's bad for you and Bad News about what's good for you" by Jeff Wilser. http://amzn.to/2kH9OSc
The study I refer to in the podcast is by:
Nicole Ruysschaert (2014).
The Use of Hypnosis in Therapy to Increase Happiness, American Journal of Clinical Hypnosis, 56:3, 269-284, DOI:
10.1080/00029157.2013.846845
http://dx.doi.org/10.1080/00029157.2013.846845
Dr. Ruysschaert's program incorporated the following things to increase happiness.
 Hypnosis. Yep, you heard it hear first haha. The act of receiving hypnosis and positive imagery makes people happier! Time and again I hear from clients in my office in Broward County, Hollywood that they love the process of hypnosis. It feels good to sit back, relax, and have someone guide you through positive imagery to change your life for the better.
Developing a positive self-image. Whether you do this with hypnosis or by taking risks and putting yourself out there in healthy ways, feeling better about your own abilities increases happiness.
Reliving positive experiences from the past. This can work on its own as well as help you develop a positive self-image. Think of something that made you happy in the past – an experience, a moment, a person – and you'll begin to feel happier.
Gratefulness diaries. Make a list on your phone or designate an actual notebook to write down things you're grateful for. This has been researched over and over again and gratefulness works.  Emmons and McCullough (2003) found that people who kept a gratefullness diary "felt fully 25% happier—they were more optimistic about the future, they felt better about their lives, and they even exercised almost 1.5 hours more per week than those in the hassles or events condition."
Feeling more connected to someone who influenced your life positively. Think of someone who did this – a teacher, a friend, a mentor, someone older or perhaps someone your own age. Write them a letter, even if they're no longer alive. Or give them a call.
Being more connected to people in general but particularly that you're contributing, that your life has meaning. This means service, volunteering, or even choosing a career where you get contact with people and feel like you're contributing to their well-being.
Future-based happiness hypnosis. Thinking of being happy in the future with hypnosis, imagining it and then bringing those feelings back to the present helps increase happiness. This is what I end this week's podcast with – a free hypnosis for happiness. We go to the future together and then bring those feelings back in a way that you can unwrap them when you need them.
If you're just reading, be sure to listen to that part of the hypnosis when you're somewhere you can relax and drift off (i.e., not while driving!). It starts about 15 minutes into the podcast.
More Resources On the Website
Downloads to help your life. I offer several hypnosis files to help you feel calmer and less anxious.
Disclaimer
***These electronic recordings are intended only to teach non-patients the use of self-hypnosis for the individual's own therapeutic use. The use of these recordings for any other purpose is strictly prohibited. Elizabeth Bonet, PA, disclaims any liability for the use of this recording for any other purpose, and/or for the use of this recording without following the accompanying instructions, and/or for any damages resulting from hypnosis. If the recording is not giving you the desired result, you should stop listening to it and contact a mental health professional.***
Please note that these downloads are not mental health treatment nor should they replace mental health treatment. If you need psychotherapy or hypnotherapy, please seek treatment from a trained professional. I do hypnosis all over the world, so please feel free to contact me.
Thank You for Listening
I know that our lives are busy, and I'm grateful that you took the time to listen to this week's podcast.
If you enjoyed today's episode, please share it with colleagues and friends using the social media buttons on this page.
Please consider leaving an honest rating and review for the podcast on iTunes as this helps the podcast reach more people to help in their journey towards transformation and healing.
Finally, feel free to join over 2,500 members who have signed up for the Conversations for Effective Living Newsletter.
You'll learn valuable tips for your life and get the podcast episodes delivered right to your inbox.
You'll also get FREE access to several Hypnosis Files you can download, share with friends, and use at your leisure.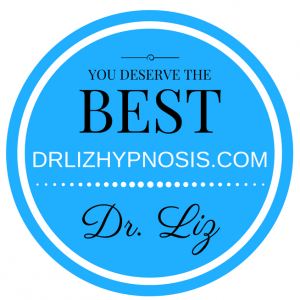 ---
I specialize in hypnosis for anxiety and chronic conditions in Broward county and the Fort Lauderdale area. If you would like the magic of custom hypnosis, email me at drliz@drlizhypnosis.com.
Yours in health,
Dr. Liz