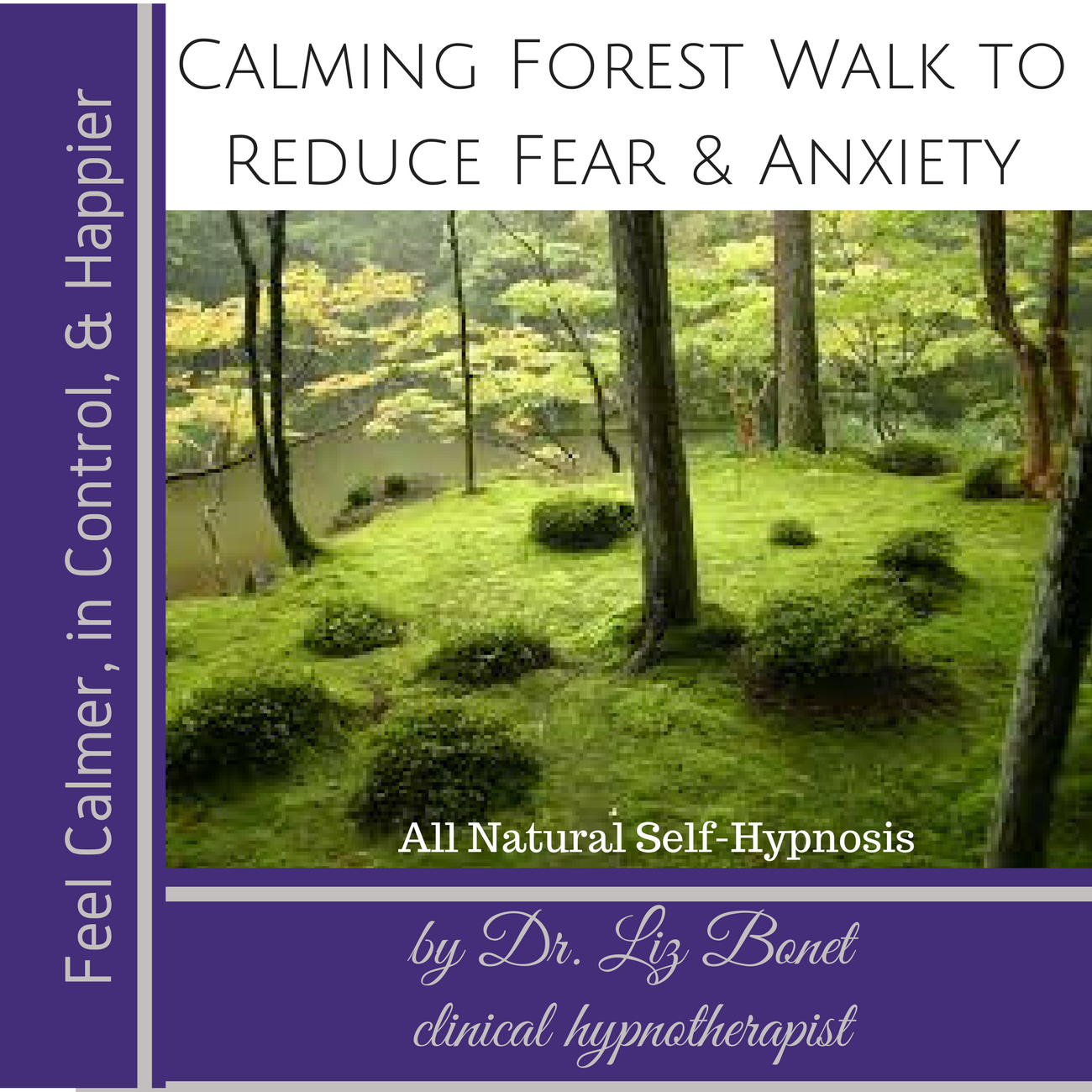 Hypnosis to Reduce Fear and Anxiety
SKU 00004
Immediate Download! Feel Calmer, more in Control, and Happier with a Calming Forest Walk
Product Details
Reduce Fear and Anxiety with hypnosis
Feel Calmer, more in Control, and Happier with a Calming Forest Walk with Dr. Liz! This hypnosis evolved out of a popular requests from clients in my practice struggling with anxiety.
Part of the script:
"And you begin to walk down the path, winding here and there. Feeling completely safe and natural. And as you do this . . . as you walk down the path . . . you know that you're walking towards growth and making positive changes in your life . . . to help yourself as well as your loved ones . . . At all times keeping yourself safe and feeling that deep inside."
Studio Recorded & Mastered; Background Music Included; Runtime/Length [20:31]

For daytime: You can listen to the hypnosis during the day as much as you like and easily go about your day at the end. I include grounding and alerting at the end of the hypnosis.
For nighttime: I often recommend that you put the hypnosis on while you fall asleep, phone face down (so the light does not mess up your sleep patterns), and let the file play. There is a suggestion at the end that if you need to stay asleep, you will sleep well the whole night, only waking up if you need to; otherwise waking up rested and energized for the day ahead.
How many days: I recommend listening to the Hypnosis daily for 30 days. Most people start to notice changes within the first days, but we want those neural pathways laid down really well! After 30 days, you can listen to it at your leisure and/or whenever needed for a boost of motivation.
***These electronic recordings are intended only to teach non-patients the use of self-hypnosis for the individual's own therapeutic use. The use of these recordings for any other purpose is strictly prohibited. Elizabeth Bonet, PA, disclaims any liability for the use of this recording for any other purpose, and/or for the use of this recording without following the accompanying instructions, and/or for any damages resulting from hypnosis. If the recording is not giving you the desired result, you should stop listening to it and contact a mental health professional. These electronic recordings are not mental health treatment nor should they replace mental health treatment. If you need psychotherapy or hypnotherapy, please seek treatment from a trained professional. I do hypnosis all over the world, so please feel free to contact me.***

Save this product for later